70s & 80s TV Shows for Geeks
Shows that the geeky kids watched.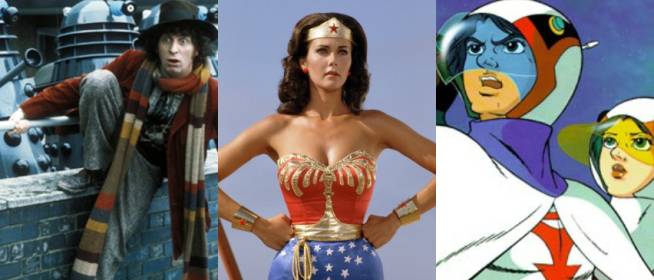 I was feeling nostalgic recently and was reflecting back on the shows I watched as a little girl in the late 70s & early 80s. Technically not all of them were 70s & 80s shows, they were older shows in syndication, but they were still a big part of my childhood.
Being the "weird" kid that I was, I didn't watch what most of the other little girls (or even some of the boys) watched. Instead I was obsessed with science fiction shows, anything with Superheroes, and a lot of BBC (pretty much anything that was BBC, even non geeky stuff). It was a long time ago, so I'm sure I forgot a few shows that I watched. I decided to mostly focus on my favorites, the ones that really resonated with me in some way.
Science Fiction:
Star Trek (syndication) – The first sci-fi show I remember watching, and I loved it instantly. I watched the episodes over and over again, because, well, there were only 3 seasons.
Battlestar Galactica – I remember being bummed out when the show came to an end after only one season, but I could not get into Galactica 1980 (though oddly enough I've been tempted to go back and try to rewatch it).
Doctor Who – I remember when I discovered the 4th incarnation of the Doctor on PBS, there was something about the show that I can't quiet explain. The Doctor just seemed so different, and the thought of going on adventures in the T.A.R.D.I.S., with this unusual alien made this show my favorite.
Other sci-fi shows I watched:
Buck Rogers in the 25th Century, Space: 1999, and Lost in Space
Superhero:
The Incredible Hulk – I mostly loved the show when the Hulk was, well, being the Hulk. Most other times it just seemed very depressing. Especially the music when Bruce Banner was strolling down the road moving on to another destination. But it's something that always stuck with me.
Batman (syndication) – It was silly and campy, and a lot of fun to watch. I remember reading some Batman comics in the 70s & 80s, and the darker Batman that I got to know in those made the comics Batman my favorite superhero (just not the version of him in the TV show, cause,even though I loved it, it was simply too cheesy).
Wonder Woman – I loved that there was a female superhero on TV, and, probably like a lot of other little girls, I wanted to be Wonder Woman. Though to be honest, I changed a few things about her in my imagination; like the costume, and her weaknesses.
That opening theme song, so dated, but I wouldn't change a thing…
Other ones I watched:
Spider-Man, and Adventures of Superman (syndication).
Cartoons:
Voltron – and other mecha type cartoons (like Robotech). basically, if it had a giant robot thing in it, I was probably watching it. Which is probably why I liked Pacific Rim.
Battle of the Planets (aka: Gatchaman/G-Force) – For some reason this was my favorite cartoon, probably because it was set in space, and one of the characters was a girl. This is now a live action movie in Japan, and I really want to see it!
Other cartoons I watched:
Thunderbirds, Super Friends, Plastic Man, and Spider-Man
As an adult I still watch the same kind of shows, and Doctor Who is still one of my favorites. Not much has changed. What shows did you watch & love when you were a kid?
Deliveries Kamagra Oral Jelly are conducted almost round the clock but. Next Day Delivery it is convenient not to everyone and therefore to solve to you.