Addictions: Funko Pop Vinyls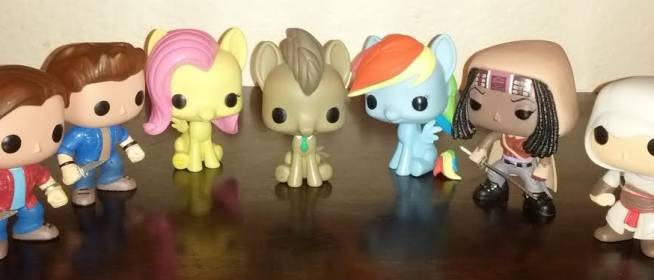 It has happened. We're getting addicted to those adorable Funko Pop Figures. I'm mostly starting my collection with Ponies, while Lynn is mostly into the TV Show ones…and one pony in particular.
Funko makes more than just those cute Pop! figures, they also have other collectible vinyls that look more 'normal', plushies, wobblers, tin-tastics, etc. But the most addicting thing that they have, in our opinions, are the Pop! vinyls.
Now that we have a few of them, I thought it was a good time to do a post. Lynn was hoping she could find Castiel (Supernatural) before the post, but sadly, that wasn't happening. We really, really want to get more. There are so many we want, but we simply do not have enough money to collect them all!
Lynn will also be doing reviews on our YouTube channel for each figure.
Currently Have:
Amanda's Collection:  Rainbow Dash
, Fluttershy
, and Michonne
(The Walking Dead).
Lynn's Collection: Dr. Whooves
, Sam
(Supernatural), Dean
(Supernatural) and Altair
(Assassin's Creed).
Lynn actually has 2 different Dr. Whooves, one is the cute little Pop! figure, the other is a more 'normal' looking Vinyl Figure
.
Wish List:
There's Game of Thrones, The Walking Dead, World of Warcraft, Superheroes, Teenage Mutant Ninja Turtles, The Hobbit, and so much more!
Visit our Funko Pop Amazon Store!
Below are some of our favorites, that we hope to get soon (click any image below to open)…
This is only a small portion of the ones we would love to collect!
Deliveries Kamagra Oral Jelly are conducted almost round the clock but. Next Day Delivery it is convenient not to everyone and therefore to solve to you.