Alone With You: preview of a sci-fi psychological romance adventure!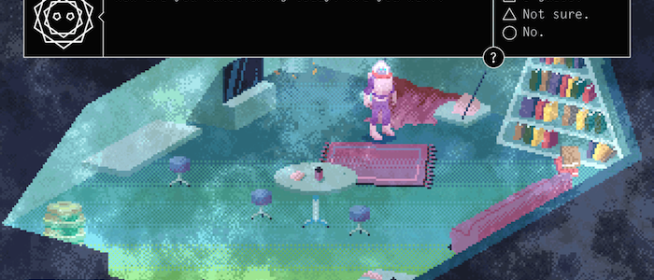 "Alone With You" is set on a distant terraforming colony. A mysterious accident kills everyone except you and the colony's artificially-intelligent computer, and you have a month to get the heck off the planet before it crumbles and implodes.
There's an escape pod, but it's broken. You might be able to fix it, but everyone with the expert knowledge you need was killed in the accident. The computer — as desperate to survive as you are — has a cunning plan; to recreate your dead friends and colleagues so they can help you fix the pod.
Check out the trailer!
The game will focus on the characters, emotions, plot and mystery, rather than overt shoot-em-up action. The developer, Benjamin Rivers, says on the PlayStation blog "No matter who you are, you'll be able to take a crack at love" which fills me with hope that the game will let you play as a male or female character, as well as supporting heterosexual and same-sex relationships. It'll be great to see some diverse representation!
The graphics are very reminiscent of 1990's Amiga gaming, especially Flashback if it was in faux-3D, or the LucasArts point-and-click adventures like The Secret of Monkey Island. It strikes me as the sci-fi gaming of my childhood, but with bang-up-to-date modern storytelling. My credit card is ready.
"Alone With You" will be a PlayStation 4 and PlayStation Vita exclusive in 2015, and I can't wait!
Deliveries Kamagra Oral Jelly are conducted almost round the clock but. Next Day Delivery it is convenient not to everyone and therefore to solve to you.