Awesome Con Indy 2014: Michael Rosenbaum Q&A
"Without the 'Awe' it's just 'Some Con'" - Michael Rosenbaum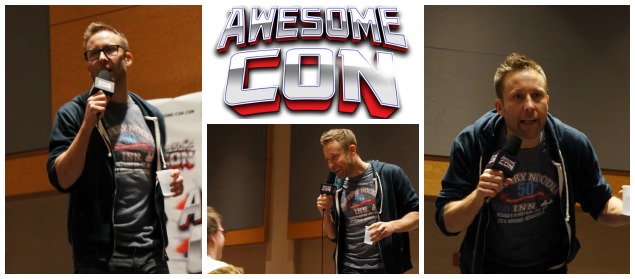 This past weekend at Awesome Con in Indianapolis we got the chance to see Michael Rosenbaum, well known for his roll as Lex Luthor in Smallville.
Rosenbaum may also be familiar to you as the voice of The Flash in Justice League, and last year he filmed a movie that he wrote, and directed, "Back in the Day". He has a new show that was just picked up, called "Impastor", a dark comedy that will air on TV Land.
Before he started taking questions Michael took the stage, roaming about, and quoting random lines from movies. Talking about how he grew up in Evansville, Indiana, and having some fun with the audience.
Here are a few questions from his panel…
As Lex Luthor, did you ever get tired of all your death scenes?
What I got tired of was my lack of security at the Luthor mansion. Where's my security? I'm a billionaire, and I've got the worst security in the world! (someone says something about ADT) Yeah. You never even heard 'Front door open.'. It was a little dis-concerning being a millionaire in that house. Clark would come in and I'd be like, "How'd he get in here?". Why didn't I just rewind the tape? I got cameras, oh there it is. "Oh he's Superman." Episode two, series over!
Who do you think plays evil better, you or John Glover?
I think we're both capable of doing a pretty badass job. John was fantastic, he had such a great presence. If you base it on 'evil is what evil does', he was more evil in that show until the end when I had to kill him. He needed to die, didn't he guys? He was the reason Lex became bad.
What do you think you brought to the role of Lex Luthor, to make him more of a sympathetic character, rather than a supervillian.
A lot of it depends on how they film a show. I thought Smallville was filmed beautifully, it looked like a movie every week. The costumes, the set design, the writing, all these things for the most part were really good. So that helped the show, but let's get back to me. Again, it's in the writing. If you learn why someone is the way they are. For instance if you watch Lockup, which I watch, and you hear a story from someone who did something terrible, and you ask them how they got in prison. And they say, "Well, my dad left when I was five, my mom died…" and you start to feel sorry for that person, and understand why they became the way they did. They didn't have a lot of positive influence in their life.

So I always felt for Lex, and it worked because you always felt like, you know his mom died when he was young, and his brother, and his dad had something to do with it. His dad was always pushing him, and he had the meteor shower, and he lost all his hair. And you're like, "Man, this sucks!". So you feel for him, and if you're allowed you have the time to develop a villain in a movie or TV Show, find out where he comes from, it's just a better villain because you like him, and you don't want him to turn evil. People would always say, "I don't want you to turn bad." I know, but I want me to. It's boring being nice all the time! Again, I think it's in the writing. It was a blessing to be on a show that was relatively well written, and Lex is a great character.
 Did you take a part of Lex with you when you left the show?
You know, they say there's 70-80% of you in every character you play. To me that's kind of like, "whoa!", I've played transvestites, villains, douchbags, so I guess there's a part of all those guys inside of me. Playing a part like Lex was taxing. Especially the year I was in a mental hospital screaming and yelling. I went a little nuts at times. I remember doing stand up in front of the whole crew everyday because I wanted to get out of that. Crew would be like, "man, what are you doing playing this character. You're funny." and I'm like, "Really?". So when I left (the show) I think it took me a minute, but I grew my hair back, and that started helping me be a little less Lex, and I was able to be me again.
Deliveries Kamagra Oral Jelly are conducted almost round the clock but. Next Day Delivery it is convenient not to everyone and therefore to solve to you.