Awkward Geeks Year in Review 2013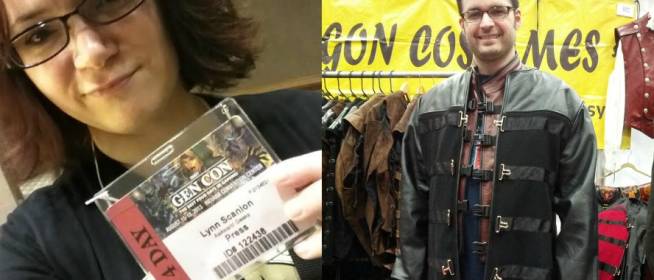 Unfortunately we didn't do nearly as much as we would have liked (so many conventions, so little money). But we still managed to have some fun, enjoy geek culture, and meet other geeks & nerds.

Here are some of the things we discovered this year, and a few adventures we had along the way.
Who North America – They were a new discovery for us very early this year. They're an online retailer that specializes in Doctor Who merchandise, but their warehouse is located here in Indy, and they have an open house once a month.
Doctor Who Screenings – (brought to us by Who North America, and the BBC) We attended these monthly, revisiting all of the previous incarnations of The Doctor. So much of fun being around other fans.
TableTop Day – This year was the first (annual?) International TableTop Day! We went out to local gaming rooms, hung out with our fellow geeks, and played some games!
Free Comic Book Day – Putting this in here because we actually got out this year for it, something we usually neglect doing. Clearly there was something wrong with us, and we will go out and get our free comics every year now!
Gen Con – The best four days in gaming! This wasn't the first time we attended, but we were lucky enough to attend this year as press. We had a lot of fun playing games, attending panels, taking pictures of cosplayers, and covering all kinds of events.

Geek/Nerd MeetUps – We've been to a few meetups, some of them were because of a new convention we're looking forward to next year (IndyPopCon). It's always great fun, especially when we get to meet some of our twitter followers!
Movie Night – We started making movie nights at home a weekly thing, and have tried to incorporate some sort of snack or beverage based on whatever movie we're watching.
LAN Parties – After not having done them for years, Ken has had the chance to go to a few of them this year!
Plans for 2014:
More of the same, plus…
Gaming Nights – Now that I finally got the rest of Awkward Geeks crew into TableTop games, we need to start something up in that area.
Conventions – We're hoping to attend a few more conventions, though we will have to stick to local ones (Someday we really want to attend SDCC & BlizzCon). Of course we have GenCon, but we can't wait to check out Indy Pop Con.
Vlogging & Let's Play Videos – We plan on doing a bit more with our YouTube channel, I'll be working on my 'Random Acts of Vlogging', and Ken will be doing some Let's Play type of things with Hearthstone and Kerbal Space Program. There will also be unboxings, and other random geekery.
We hope you had a great year! What are your plans for 2014?
Deliveries Kamagra Oral Jelly are conducted almost round the clock but. Next Day Delivery it is convenient not to everyone and therefore to solve to you.