Book Review: Razorjack Graphic Novel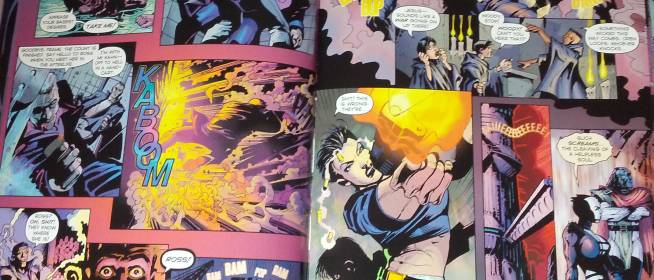 Titan Comics just released a remastered edition of Razorjack
. Written and illustrated by John Higgins (Watchmen, Hellblazer, Judge Dredd), this collectors edition features exclusive artwork, commentary and more!
About:
"When three students inadvertently create an opening into our dimension from an alternate universe known as The Twist, they become the focus for the evil death-bitch Razorjack. Maverick cops, Frame and Ross, are assigned a disturbing serial killer case which draws them into what is potentially the final battle between good and evil."
My Thoughts:
Through his words and art John Higgins weaves a complex, and interesting story.  I felt that it balanced two completely different dimensions very well, going between The Twist, which is very much what you might picture hell to be like, and the other being our own dimension. All of it building up to a larger story between both dimensions. The characters had some depth to them, the story, along with the art, really held my interested. I really enjoyed getting lost in this amazing world that Higgins has created here.
Once I started reading I didn't want to put it down, then when I was finished with the graphic novel I wanted more. I just feel that there's so much more to learn about Frame and Ross, as well as The Twist and Razorjack herself. You're truly missing out on an amazing story, and wonderful artwork, if you don't give Razorjack a chance.
At the end of the book there are two short stories. One is a quick look at what our cop friends are doing now, and the other takes place in the distant past.
Disclosure: We received this copy from Titan Books for review purposes.
Deliveries Kamagra Oral Jelly are conducted almost round the clock but. Next Day Delivery it is convenient not to everyone and therefore to solve to you.