Caffeine Fix: Dragon Tail Energy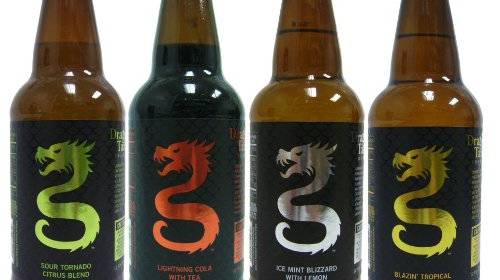 A couple of months ago when I stopped in at Rocket Fizz I found an energy drink that I haven't seen before, Dragon Tail Energy.
Dragon Tail Energy has 4 interesting flavors to choose from.
Ice Mint Blizzard with Lemon – It wasn't the worst drink that I ever had, but I will not buy it again. I wasn't thrilled with the flavor, and I felt a little sick after drinking it. But don't let my reaction stop you from giving this one a try.
Lightening Cola with Tea – I never really considered the combination of cola and tea before, but I figured it could be good. One of the ingredients listed is green tea, which I always like. This had a subtle flavor, and was quiet good.
Blazin' Tropical – Citrus, sweet and tangy. I really enjoyed this one, it might be my favorite, or a close second to the cola with tea.
Sour Tornado Citrus Blend – Unfortunately I haven't been able to find this one, so I have no clue if it's any good, but I suspect I might like it. Have you tried it? Let me know what you think about it!
I really wish I could have tried the sour citrus blend before posting the review, but I've been trying to find it for over a couple of months, so I gave up. I probably could have bought it online, but I was too cheap to pay for shipping.
All the drinks I tried were tasty, and they did give me a boost of energy. If you can't find them in your area, you can order a mix case of these over on Amazon
.
Deliveries Kamagra Oral Jelly are conducted almost round the clock but. Next Day Delivery it is convenient not to everyone and therefore to solve to you.