Child of Words

Big Pulp celebrates six years in business with a new Sci-fi & Fantasy magazine, Child of Words
. We will be reading it soon, and will let you know what we think!
From the Press release:
The featured story in the debut issue of Child of Words
 is the fantasy tale "Kingcrux" by Betsy Dornbusch (Emissary, Night Shade Books). In "Kingcrux," a former slave returns from the fields of battle too late to marry his beloved and must choose between remaining with his people or following his god. As this issue's cover story, "Kingcrux" is featured in a stunning cover illustration by Ken Knudtsen (Wolverine, My Monkey's Name is Jennifer.)
This issue also contains fiction by Stephen Ross, Selina Rosen, Fi Michell, John F.D. Taff, Bonnie Jo Stufflebeam, DeAnna Knippling, Michael Andre-Driussi, and Ian D. Smith; and poetry from Adele Gardner, WC Roberts, Neil Weston, and Charles Leggett.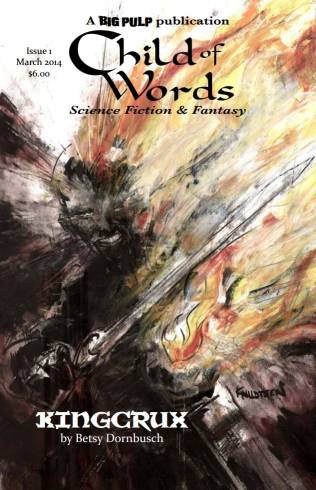 Deliveries Kamagra Oral Jelly are conducted almost round the clock but. Next Day Delivery it is convenient not to everyone and therefore to solve to you.