Comic Review: Henchmen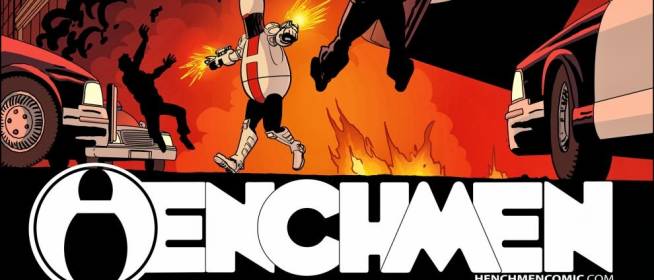 We recently received a copy of Henchmen, which had a successful kickstarter last year, at a meetup. 
Henchmen takes a unique angle with their comic, instead of being about the Superhero, or the Supervillian, it's (as the title suggests) about the unappreciated Henchmen.
The main character in this story is Gary, just an average guy, struggling to get by. Everything in his life seems to go wrong at one time, he loses his job, and his wife is leaving him. He just wants to be a good father, so he sets out to find another job.
He finds a mysterious ad in the newspaper, and shows up to find out what the work is. Turns out, he's applying to be a henchman. But he soon realizes his boss, "Head Pin", is an idiot, and that the Henchmen are pretty much only there to offer up as fodder.
Instead of following orders, Gary takes action, which leads to him becoming an unlikely hero among his fellow henchmen.
This comic comes at you from the perspective of the guy who people don't usually consider. It's filled with likable characters, and was certainly an entertaining read! Check it out, you won't be disappointed. You can buy it in their shop, and at the time of this posting the digital download is free!
Follow Henchmen comic on Facebook & Twitter!
Deliveries Kamagra Oral Jelly are conducted almost round the clock but. Next Day Delivery it is convenient not to everyone and therefore to solve to you.