Commercials: Sci-fi Celebs Before They Were Stars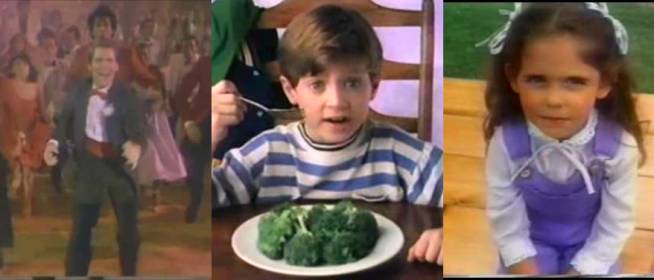 You may, or may not, have seen some of these, but we wanted to share some "before they were stars" commercials from some of our favorite science fiction/fantasy celebs.
Scott Bakula (Quantum Leap, Enterprise), singing and dancing in an ad for Canada Dry. Bakula has done a few more commercials, one for Folgers decaf coffee, and another for The Magic Pan.
Seth Green (Buffy the Vampire Slayer, Robot Chicken, Family Guy) did a commercial for NERF (we love NERF in the Awkward Geeks office). He's done a few other commercials as well; Froot Loops, and Rally's, and quiet a few others (you can search for them on YouTube!)
Sarah Michelle Gellar (Buffy the Vampire Slayer) was adorable in a 1981 Burger King commercial. She also did a few other commercials, there was even another one for BK (with a couple other celebs; Lea Thompson & Elisabeth Shue)
Interestingly enough, you can see both Seth Green and Sarah Michelle Gellar, before they were Whedon alum, together in a commercial from the mid 80s. (unfortunately I couldn't find a better quality of this video)
Elijah Wood (Lord of the Rings, TRON: Uprising) was in a cheese commercial, that is evidently about how oozing a bunch of cheese on healthy food makes it taste better. Cause cheese.
A Boots ad featuring David Tennant (Doctor Who), a few years before he became The Doctor. There are a few more of these ads out there, it appears they were a series.
Deliveries Kamagra Oral Jelly are conducted almost round the clock but. Next Day Delivery it is convenient not to everyone and therefore to solve to you.