Con*Quest Adventure Journal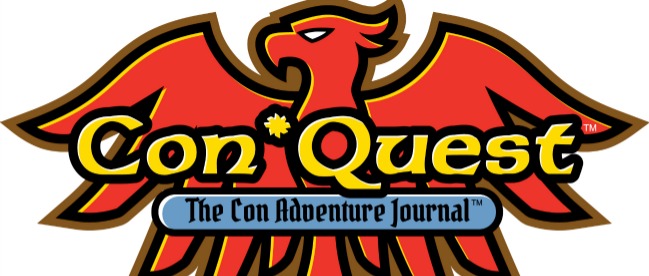 It's one of the best times of the year, con season! So we were very interested when we heard about the Con*Quest Adventure Journal!
If you have been to a convention before then you know how overwhelming they can be, but also seriously fun. There is so much to do there, attending panels, getting autographs from your favorite celebs, comic creators, artists, and more. You'll be meeting people, checking out vendors, eating out, and making all kinds of wonderful con memories.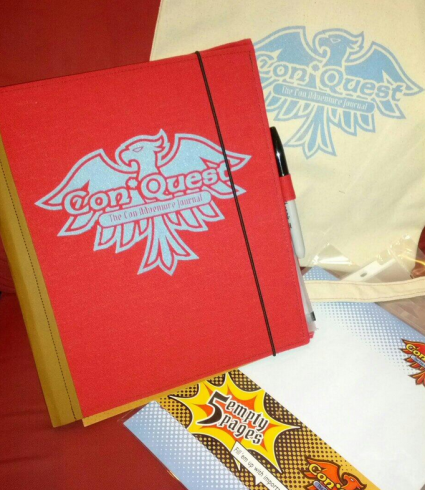 This journal is great idea, it helps you keep all those con memories in one place, immediately. Pages for autographs, artist gallery pages, pages to take notes, and places for photos. There are sleeves to store comics & autographed pictures, as well as business card pockets (you end up getting A LOT of business cards at cons!). You can also keep track of places you eat at, and people you meet!
Check out a couple of the pages below, how awesome are those? So colorful! (click images for more detail)
It's great for keeping your stuff safe, and for storing things you might pick up as you roam around the con! (click images for more detail)
The binder is a high quality canvas, comes with a sharpie (and a built in holder for it), the pages are a nice thick quality (and you can buy extra pages). There's also a great tote bag to go with the journal so you can easily carry it around.
They call it a journal, for obvious reasons, but it reminds me of a journal/scrapbook/yearbook combination. Which, in my opinion, is pretty ingenious. This journal is fun to fill out, and it will make your con experience so much easier.
Order your journal here, you will love it! Attending Indy PopCon? You can find Con*Quest Adventure Journal right at the front of the show floor, at Booth 912, get your journal there to start your con adventure!
Follow Con*Quest Adventure Journal on facebook and twitter.
Deliveries Kamagra Oral Jelly are conducted almost round the clock but. Next Day Delivery it is convenient not to everyone and therefore to solve to you.