Doctor Who: The 11th Doctor Comic #1 Variant Covers & Synopsis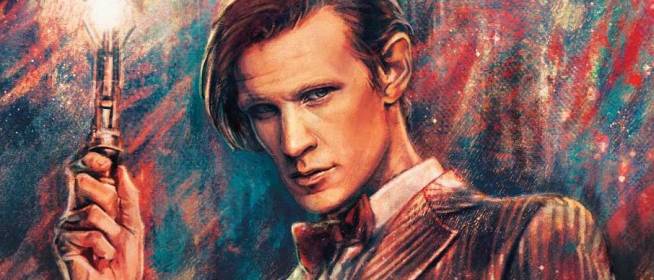 Check out all of the covers for Doctor Who: The 11th Doctor #1, coming from Titan Comics, in the slider below the comic details and synopsis.
Writers: Al Ewing & Rob Williams
Artist: Simon Fraser
Colorist: Gary Caldwell
Letterer: Comicraft
DETAILS
Page Count:  32PP
Full Color, B&W, or Partial Color: FC
Cover dimensions: 6.625 X 10.25
Retail Price: $3.99
ON-SALE: JULY 23, 2014
SYNOPSIS
The Eleventh Doctor returns in an all new ongoing series! With a time-twisting leap into the unknown! GERONIMO!
A stunning new era begins for the Eleventh Doctor, as played by Matt Smith!
Alice Obiefune has just lost her mother when the Doctor explodes into her life.
But what does this grieving young woman have to do with the career of a 70s musician, an amnesiac alien, and a terrifying cosmic threat?
In the wake of the second Big Bang, find out what the Doctor gets up to when Amy and Rory aren't around!
Series architects Al Ewing (Loki: Agent of Asgard, Mighty Avengers, Trifecta) and Rob Williams (Revolutionary War, Ordinary, Miss Fury, The Royals: Masters of War, Trifecta) kick off a whirlwind adventure through eternity with artist Simon Fraser (Nikolai Dante, Grindhouse, Doctor Who)!
(10th Doctor Cover Variants & Synopsis)
Deliveries Kamagra Oral Jelly are conducted almost round the clock but. Next Day Delivery it is convenient not to everyone and therefore to solve to you.