Elric: The Ruby Throne Vol. 1 (graphic novel trailer & details)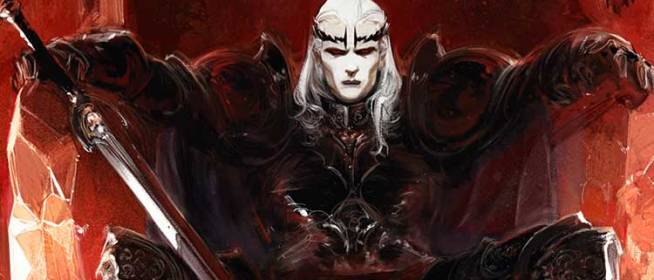 Coming this September from Titan Comics, the fantasy/horror graphic novel, Elric: The Ruby Throne Vol. 1
Summary:
A stunning new comic adaptation of the classic Elric of Melnibone
novels by Michael Moorcock!

The ancient island of Melniboné has been ruled by Elric, the albino emperor, for millennia. Reliant on magic and herbs for his strength and prolonged life, Elric's grip on Melniboné is crumbling, as his people slide into decadence. Now his envious cousin Yyrkoon, Prince of Melniboné, plots to overthrow him and claim the Ruby Throne for himself!

Lavishly illustrated, this new comic adaptation has been produced with the full and enthusiastic endorsement of Moorcock himself, who has written an original introduction for this edition. 
Details:
Writer: Julien Blondel
Artists: Didier Poli, Robin Recht
Volumes in Series: 1 of 4
Genre: High Fantasy/ Horror
Format: Hardcover Collection
Page Count: 64pp
Full Color, B&W, or partial color: FC
Cover Dimensions: 211 x 282
Retail Price: $12.99/$14.99/£10.99
Street Date: September 16, 2014
Deliveries Kamagra Oral Jelly are conducted almost round the clock but. Next Day Delivery it is convenient not to everyone and therefore to solve to you.