Energy X Caffeinated Gum Review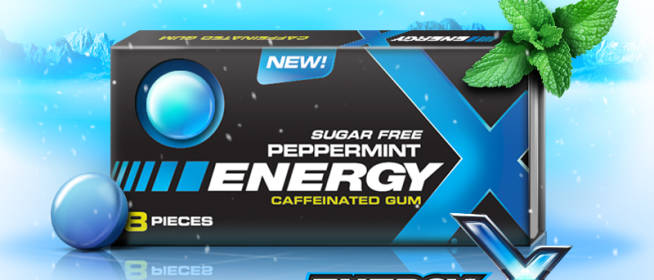 My last experience with caffeinated gum didn't go so well, so of course I decided to buy a different kind and give energy gum another shot.
It happened when we were out shopping at Fry's Electronics, I was running out of energy, and needed something to help me. Then when we were at the checkout area I found some caffeinated gum. I was hesitant, but figured I might as well give it a try. It's just what I do. I see something new that has caffeine in it, and I simply HAVE to try it.
Energy X had 2 flavors to choose from, peppermint and spearmint, I decided on the peppermint. Thankfully this gum, unlike the other brand I tried in the past, was palatable. At first.
After chewing for a couple of minutes I noticed the caffeine flavor getting stronger, but it wasn't too bad, and is fairly tolerable. I chewed for a little bit, until the flavor started to bother me, and it did seem to give me more energy. So that was clearly a good thing, because, well, that's what it's supposed to do.
Overall I do recommend Energy X Caffeinated Gum.
Check out the video below to see my reaction when I first tried the gum…
http://youtu.be/QSgEoPoXTHc
Deliveries Kamagra Oral Jelly are conducted almost round the clock but. Next Day Delivery it is convenient not to everyone and therefore to solve to you.