FCBD Haul 2014: Fantasy Comics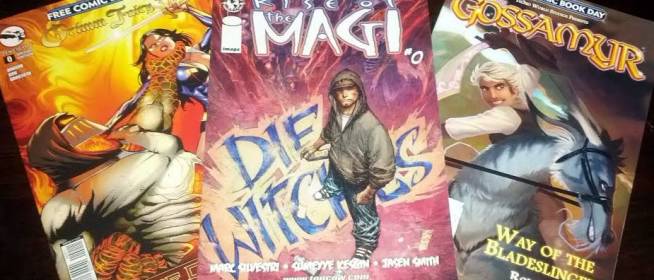 More comics from our comic book day haul, this time they are in the fantasy genre.
Rise of the Magi #0 (Top Cow/image)- The world as we know it is at risk because the world we don't see—the one that makes ours possible—is on the brink of destruction. From Top Cow Productions, Marc Silvestri (THE DARKNESS, WITCHBLADE, CYBER FORCE), founder and partner at Image Comics, and artist Sumeyye Kesgin present a new fantasy adventure series set in both the worlds magical and mundane—in which we live.
Issue #1 is out this month. This one was intriguing, and left me wanting more!
Grimm Fairy Tales: Age of Dakness Special Edition (Zenescope) – Extinct for millennia the most powerful and terrifying creatures to ever exist in the Grimm Universe have now returned. They are the Bloodhunters, and their sole purpose is to hunt down and exterminate Highborns and they have their sights set on their first prey since returning…Professor Sela Mathers. This special Free Comic Book Day edition of Grimm Fairy Tales ties directly into GFT #100 and the upcoming Age of Darkness Grimm Universe event.
I really liked the artwork, and the story kept me interested as well! I never read any of the Grimm Fairy Tale comics before, but now I might have to check them out.
Finding Gossamyr (Th3rd World Studios) – Return to the fantastic world of Finding Gossamyr as Th3rd World's critically acclaimed series continues in a brand new Free Comic Book Day adventure that leads into the upcoming Volume 2! Eloric helped Jenna and her brother Denny save an entire city from the evil of the Skaythe and has been celebrated as one of the heroes of Gossamyr. But there are events in his past that will return to haunt him and challenge this young farmer's ambition to become a true Bladeslinger of Gossamyr!
I've never read this series before, but I really enjoyed it, and loved the artwork!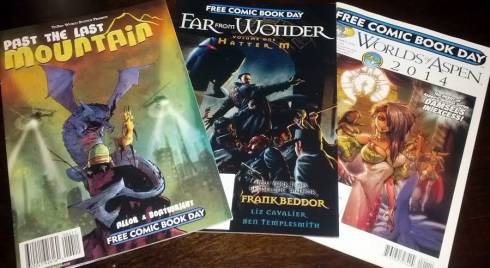 Past the Last Mountain (Th3rd World Studios) – Humanity has won an epic war against creatures of fantasy and locked them all away in penal colonies. But a young troll, dragon and faun challenge the authority of their human captors and escape in search of the fabled sanctuary known only as "Dragon Lake".
This was a preview of a new comic, which should be released this Fall. The art was quirky, and I was left wanting to know what will happen next.
Hatter M: Far From Wonder Volume One (Automatic Pictures Publishing) – Put to rest any delusions or disinformation you have of the tea-guzzling madman of faux literary history and prepare to expand your consciousness as the saga of Hatter Madigan and his relentless search for the lost Princess of Wonderland unfolds in Issue 1 of the Hatter M series!
While it was interesting, not quite my cup of tea. I'm not a bog fan of the art style, and was only mildly interested in the story.
Damsels in Excess (Aspen Comics) – Five realms. Five princesses. Zero men. In the land of the Five Realms, the existence of men has long since been evaporated from the hearts and minds of women. Princess Bethany–ruler of Evanfar, the largest and most prominent kingdom, finds herself at the center of a vast conspiracy that could not only threaten her kingdom—but also her life! Journey to a place where magic is abundant, unicorns and ferrets can command armies, and five women struggle to find balance—and power–in an ever-changing fairy tale world!
Coming to comic shops this Summer! Love the art, and it seems like a fun story, I'm curious to see where this is going.
Deliveries Kamagra Oral Jelly are conducted almost round the clock but. Next Day Delivery it is convenient not to everyone and therefore to solve to you.