Gaming Night: Regular Show Fluxx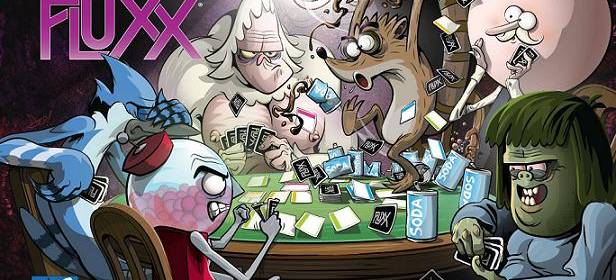 Today it's time to check out Looney Labs newest game, Regular Show Fluxx
!
Game Play:
It all begins with one basic rule: Draw one card, Play one card. You start with a hand of three cards… add the card you drew to your hand, and then choose one card to play, following the directions written on your chosen card. As cards are drawn and played from the deck, the rules of the game change from how many cards are drawn, played or even how many cards you can hold at the end of your turn.
Players: 2-6
Playtime: 10-40 minutes
Ages: 8+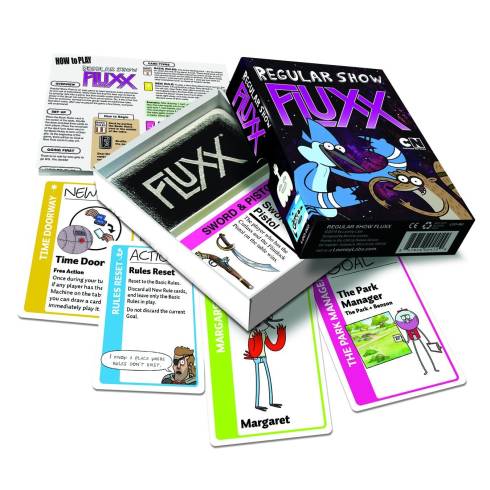 Our Thoughts:
We already love Fluxx, so we were excited to play this new version of the popular game, which is based on Cartoon Network's Regular Show.
Some of the Rule cards are what you would be familiar with if you have played any version of Fluxx (ex: 'New Rule: Draw 3'), then of course there are new ones based on the Regular Show themed cards, my favorite one is; 'New Rule: Yeehuh!', where you have to say "Yeahuh!" every time you play a Keeper. If you don't, and someone calls you on it, they get to steal that Keeper from you.
If you're not already familiar with Fluxx, this is one of the most fun, and crazy, card games you can play. Don't be intimidated by the fact the rules can change at anytime, that is part of the fun! You can also shake things up with Action cards. Some are simple, such as 'Jackpot', which allows you to draw 3 extra cards, then there are more chaotic ones such as, 'Mix It All Up', where you gather all the Keepers and Creepers on the table, shuffle them together, and deal them back out.
Not only is it tons of fun, but Fluxx is simple to learn, and easy to play. Regular Show Fluxx is out today, make sure to pick it up, and play it on your next gaming night. This is an obvious must have for fans of the Cartoon Network series!
If you're attending GenCon 2014 you can find Looney Labs at booth 1501!
Stay up to date with Looney Labs on Twitter and Facebook.
Disclaimer: We received this game for review, but as always, opinions are our own.
Deliveries Kamagra Oral Jelly are conducted almost round the clock but. Next Day Delivery it is convenient not to everyone and therefore to solve to you.