Garth Ennis Presents: Battle Classics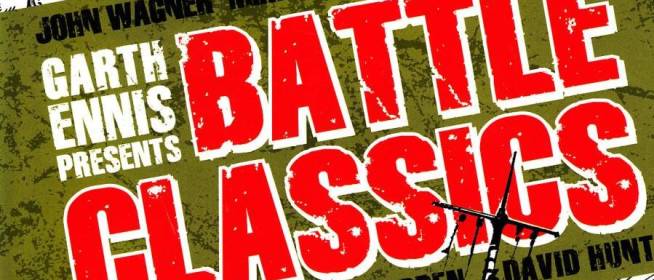 Titan Books recently released Garth Ennis Presents: Battle Classics, by John Wagner, Cam Kennedy, Alan Hebden, Mike Western, John Cooper, with an introduction by Garth Ennis
 (Preacher
).
"New York Times bestselling writer Garth Ennis, writer of The Boys, Preacher and Battlefields, selects his favorite stories from the seminal 1970s British boys' comic Battle. Included in this fantastic volume for the very first time is the complete HMS Nightshade, and the never-before-reprinted The General Dies At Dawn. With insights and introductions by Ennis himself."
Battle was a weekly war comic that ran from 1975 – 1988, and it featured work by some of the all-time greatest names in British comics. A couple of the stories in the collection include; HMS Nightshade, and The General Dies at Dawn.
It's filled with action packed fighting, classic battle stories. Even though in their day, these were supposed to be comics for kids, they can be pretty hard stories. These are some of the best iconic Battle comics all in one large, high quality, black & white, hardcover graphic novel. Perfect for any fan of classic war movies and stories.
Make sure to check out Garth Ennis' – Battle Classics
!
Follow Titan Comics on Facebook & Twitter!
Disclosure: We received this copy from Titan Books for review purposes.
Deliveries Kamagra Oral Jelly are conducted almost round the clock but. Next Day Delivery it is convenient not to everyone and therefore to solve to you.