Geek Fashion: Awesome New Tees
Add some new shirts to your collection!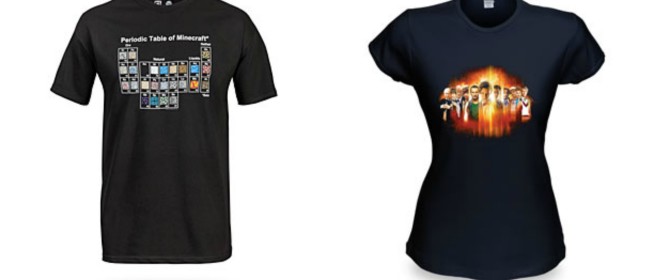 I was on one of my favorite sites, ThinkGeek, and noticed some new, and awesome t-shirts for geeks.
Doctor Who is one of our favorites, so we're loving these new shirts. A Dalek Invaders tee. This shirt is made even more fun if you notice a few things: The score 112363 is the date of the very first episode, it shows there are 2 hearts, and 11 credits. See what they did there? Also, there's a really cool TARDIS babydoll.
Some other great looking releases include a Head of Cobra tee, and Starcfraft II Random Race tee, and a seriously awesome Science Club babydoll.
They also had a couple of fun tees for the kiddos. Darth Vader Obey Me and Batman Logo.
Shown in the featured image at the top of the page; Minecraft Periodic Table Tee, and All Doctors Montage Babydoll.
Deliveries Kamagra Oral Jelly are conducted almost round the clock but. Next Day Delivery it is convenient not to everyone and therefore to solve to you.