Geek Fashion: Dinosaur Pendant by Marmar Jewelry
Rawr!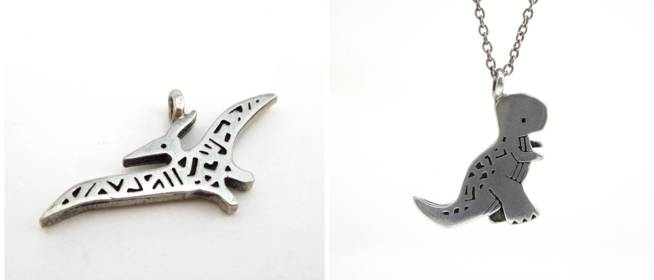 Mark Poulin has a line of jewelry that he sells online, which includes necklaces, earrings and bracelets. Check out his Etsy shop for more goodies. They're just so much fun stuff to look at, and it's all pretty inexpensive!
We recently received one of Marmar's geometric Stegosaurus pewter pendants for review. It's seriously adorable, and very well made. I'm loving it!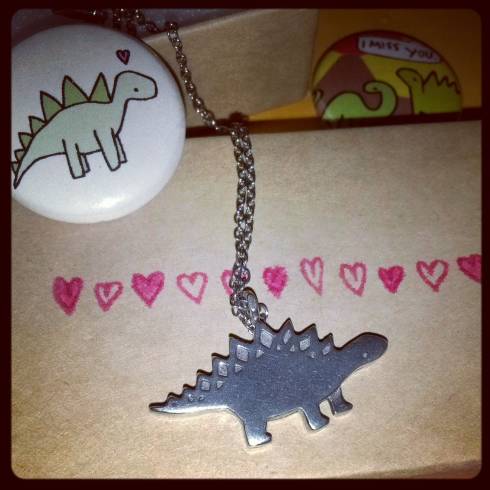 You can see the Pterodactyl and the Tyrannosaurus Rex in the featured image at the top of the post, they have a total of 6 cute dinosaurs to choose from. Head over to their pewter necklaces page to see what they have to offer.
You could also check out one of his etsy stores and see what other things they have. I found some great nerdy things over there in the pinback buttons section, like the Out of This World set, and the Science Fair set. Or if you prefer magnets, they have those sets in that section too. I also received a magnet and a pinback button sample (you can see them in the picture), and they're great! The button is currently pinned onto my purse, and the magnet has a home on a metal strip in the office.
For more dinosaur themed stuff, I found an adorable keychain (thinking I might have to add this to my collection), and a 'Little Dinosaur' print.
Deliveries Kamagra Oral Jelly are conducted almost round the clock but. Next Day Delivery it is convenient not to everyone and therefore to solve to you.