Geek Fashion: Summer Gear
Keep cool, and be fashionably geek, this summer.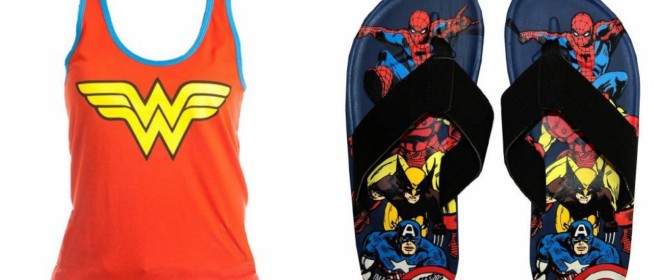 It's summertime, and it's been getting hot out there, so this week in geek fashion I wanted to focus on clothes for the summer!
For some reason I mostly found superhero things, but I'm sure there's other stuff out there, I just probably didn't search enough. I love wearing geeky things, and I'm always trying to change it up a little, especially when it comes to the weather.
Tank Tops:
I found these awesome looking DC tank tops for men, you can choose from Superman or Batman (maybe get one of each?). There's also a seriously cool looking Jedi Academy Alumni tank.
For the girls we have Wonder Woman, Batman, and Superman tank tops. I also love this Boba Fett tank top.
Shorts:
There are some juniors DC booty shorts would be great for when hanging on the beach. Oddly enough I didn't find much else when it came to shorts, at least not in my Amazon search (which is what I limited myself to).
Swim Suits:
There is simply no excuse to dress less geeky when you're hitting the beach, or hanging by the pool.
Guys have Superman, Batman, and Captain America swim trunks to choose from.
Girls have a variety of swimsuits to choose from, here's a few of my favorites; Wonder Woman, Batman and Superman.
Check our Amazon 'Geek Fashion' Store for more Summer apparel.
Accessories:
There's some other items that might be useful this summer, like a Marvel Tote Bag to carry some beach supplies, keep the sun's glare out of your eyes with 8 Bit Sun Glasses, lay around, or dry yourself off, with a Superman beach towel, some travel cups might come in handy too, like Batman, and Wonder Woman.
Don't forget about your feet, you might want to pick up some flip flops: Marvel Superheroes, Batman, and Captain America
Deliveries Kamagra Oral Jelly are conducted almost round the clock but. Next Day Delivery it is convenient not to everyone and therefore to solve to you.