Geek Fashion: Sunnydale High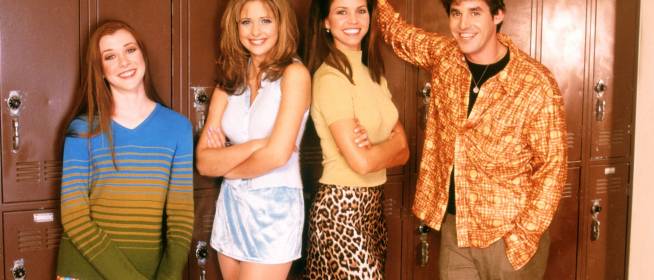 I've had Buffy on the mind lately, when I'm not Netflixing my favorite episodes, you might find me stalking the actors on twitter, and then last week Indy PopCon announced Nicholas Brendon as a guest at the convention this year. Somehow that all led me to a 'geek fashion' post.
I started thinking about how awesome it would have been to go to Sunnydale High with Buffy and the gang. Awesome, and probably deadly.
I'm not usually one for showing school spirit, but for SHS I would totally make an exception, by wearing the Sunnydale Razorbacks Tee
, or Hoodie.
 Or maybe have some fun with it by wearing a vampy Sunnydale High logo, which also comes in a Men's T-Shirt
.
One of the main accessories a student in Sunnydale High School needs is a Cross Pendant (this will come in handy), I also hear the Claddagh Ring is gaining popularity.
As I was looking around at some t-shirts I found a Buffy the Vampire Slayer Retro Style Poster T-Shirt
, that I really need to get, and think it could be cute paired with a Red & Black Plaid Pleated Skirt
, and some awesome boots
.
While I'm in the Buffy mood, might want to pick up a Supernatural Defense Kit, or Buffy: The Making of a Slayer
, for some interesting reading. Maybe pick up a certain awesome TV Show to watch with friends on the weekend…Buffy the Vampire Slayer: The Complete Series
…
(I might have a whole other post for 'cosplaying' as our favorite characters, this one was just a fun one for more simple things)
Deliveries Kamagra Oral Jelly are conducted almost round the clock but. Next Day Delivery it is convenient not to everyone and therefore to solve to you.