Geek Fashion: T-Shirts for Spring & Summer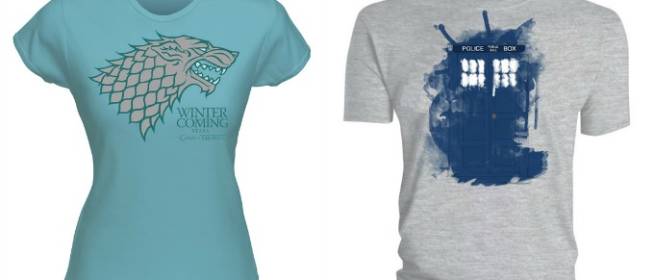 I'm not sure about everyone else, but so far I've barely had any Spring weather where I live. We just started getting a few nice days here, so that got me to think about what to wear for the upcoming warm weather seasons.
For me Spring and Summer are about lighter colors, and bright cheery colors. The problem is most of my tops are dark (black, or blue), because darkness seems to be the default for a lot of pop culture shirts (which make up a majority of my wardrobe). That said, there are definitely other options out there.
Over on ThinkGeek
there are all kinds of great options to choose from with tanks, and cute tops.
The Cadet Ladies' Athletic Shirt
 comes in some nice Star Trek themed colors, which I think are great for the season. One top I chose for this post is actually in the dark color family, but at least it's a tank top! Loving the "Long Sleep" Portal Tank
.
The Heroine: Marie Curie Babydoll
 is a great shirt, love the color, and the design. Also, how can you not love a Pioneer of Nuclear Physics?
There are some great shirts for the guys too, 
like the House Stark Shirt
, Titanfall IMC Logo V2
 tee, and the Enterprise Blue Print
tee.
Over here at Awkward Geeks we simply love all our pop culture shirts, so we're happy we can change up our wardrobe by adding some color, and variety to it.
Shirts in the featured image at top of the page: House Stark Babydoll
and Modern Art TARDIS
Deliveries Kamagra Oral Jelly are conducted almost round the clock but. Next Day Delivery it is convenient not to everyone and therefore to solve to you.