Geek Fashion: The Girly Nerd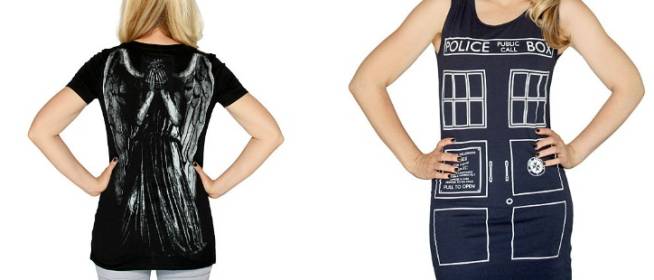 One of the things that has long driven me crazy, but thankfully has been slowly changing over the last few years, was the lack of feminine looking 'geek' clothes for girls.
At one time I remember being happy when they started simply making babydoll tees, because I finally had something form fitting, instead of being stuck with buying men's shirts. But I definitely wanted more style selection in t-shirts, and would often wish someone would make a simple v-neck.
Now, not only do we have v-necks, there's scoop necks, tank dresses/tops, leggings, and probably more that I'm forgetting. Finally, the manufactures realize that girls can be geeky too, and want to flaunt the fact they love video games, TV shows, and movies, just as much as guys do!
Below are a few of my favorite tops, I'm working on getting them all! Currently though, I only have one (the something blue v-neck babydoll).

While I'm not typically into dresses, there are some I do like, and I love tank dresses paired with leggings, and some awesome boots. Plus, these are all great for attending conventions!
Another great thing they started making are ladies hoodies! Here are a couple I would love to get, as well as a really great cardigan.
I'm also loving the fact that there is now a Ladies' 10th Doctor's Coat
! This was definitely needed, at least in my opinion.
Deliveries Kamagra Oral Jelly are conducted almost round the clock but. Next Day Delivery it is convenient not to everyone and therefore to solve to you.