Geek Fuel Alpha Mystery Box

Geek Fuel is a new monthly subscription mystery box, and they were kind enough to send us their first box to check out!
If you're wondering what kind of goodies they have to offer each month, this box should give you a good idea!
From their FAQ: "Each box will include at least 6-8 items. From time to time we may make the decision to add an item of higher value which may cause the total number of items in a box to change. Our boxes will always be curated on quality, not quantity."
Inside GeekFuel's Alpha Box: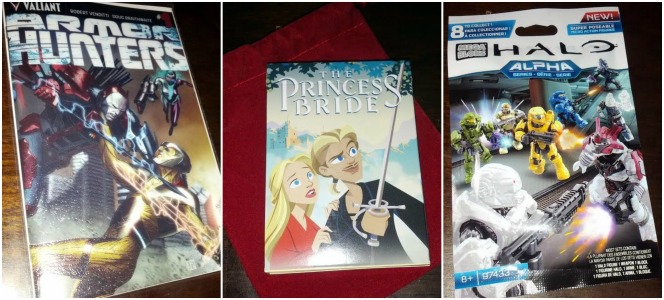 Armor Hunters #1
– From Valiant, with an exclusive chrome cover. This comic showcases an elite team of hunters charged with searching and eliminating the X-O Manowar armor.
The Princess Bride Playing Cards
– I was at the Albino Dragon booth during GenCon this year, and I almost bought these cards. I'm glad I waited, it was a nice surprise to find them in the box! This actually came in a red felt pull-string bag.
Halo Mega Bloks ALPHA Minifigure Mystery Pack
– We love mystery figs! They can be addicting once you start getting into collecting them.

Star Wars Pez Candy Dispenser
 – We have started a Pez collection, so we're more than happy to get this. I mean, it's PEZ, and Star Wars!
Eye of Sauron Poster – By Kitchen Overlord. Great poster to hang in the kitchen, complete with an easy to follow recipe. I'm always looking for geek themed recipes, so I was thrilled to find out about Kitchen Overlord.
Limited Edition Alpha Geek Fuel Graphic Tee – Love the shirt, and it's a great way to show your love and support for Geek Fuel, and geeky things! These shirts are actually numbered, and were limited to 300.
I felt that there was a nice selection of items in the first crate, which happened to include things that I love. A lot of crates will have a monthly theme, whereas this one offers a nice mixture of items instead. Themes can be fun, but sometimes they can be a bit limiting. So this was a nice, refreshing change. I can't wait to see what their future boxes will include!
Their monthly plan is a total of $23.90, but they also have 3 month, 6 month, and 1 year plans to choose from, those plans will save you some money! You can treat yourself, or get this as the perfect gift subscription for the geek in your life.
You can find GeekFuel on Facebook & Twitter!
Deliveries Kamagra Oral Jelly are conducted almost round the clock but. Next Day Delivery it is convenient not to everyone and therefore to solve to you.