Geek Music: Copy Red Leader
"Crossing the Streams"

Check out the smooth, bluesy, sounds of Copy Red Leader, who will be releasing their first full length album called "Crossing the Streams" on June 1st.
This album is filled with songs set in worlds you're familiar with. Mostly Star Wars, and Star Trek, but you will also find some Muppets in there (Pigs in Space!), Jessica Rabbit, and Calvin & Hobbes.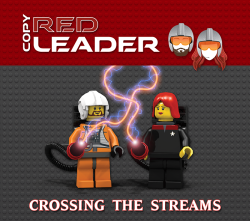 There are a total of 14 geektastic songs on this album, here are just a few of them…
Crossing the Streams – Bluesy rock song, meant to break your geek brain, but in a fun way!
Large and in Charge – Jabba the Hutt is large and in charge, and he sings the blues.
Dyson Sphere – This one is a folk love song, Star Trek themed. Filled with amusing lines such as, "My love's as functional as Data's manhood".
Rule the Sky – All I have to say is, CALVIN AND HOBBES!
Let the Wookiee Win – Title says it all really. I mean, we really would like to keep our arms.
Messing With the Fed – Starfleet scum, invading everyone elses space. Who do they think they are?
Their music is a mix of rock and blues, it's creatively fun, and will make your ears happy!
About the band: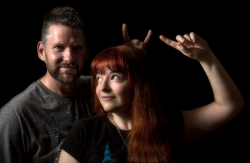 "Copy Red Leader is the geek rock duo of Leslie Hudson and Devin Melanson, based in the Toronto area. Together they flirt with the dark side of geek, playing everything from rock to blues, metal to bluegrass, funk to folk. Star Wars, Star Trek, The Princess Bride, comic books, sci-fi, speculative fiction, movies, pop culture… all have been assimilated."
They started off collaborating in a song writing challenge and produced a rock musical for The Princess Bride. They record in Devin's home studio, and have an impressive tech-heavy live show setup. Though not a strict comedy act (they have beautiful and serious songs), their humour and musical chemistry shines through.
Follow Copy Red Leader on Twitter & Facebook!
Deliveries Kamagra Oral Jelly are conducted almost round the clock but. Next Day Delivery it is convenient not to everyone and therefore to solve to you.