Geek Music: Debs & Errol CTRL+ALT+DUETS
Musical geek comedy duo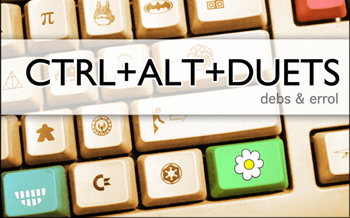 We love listening to music by geeks for geeks, so we're excited to have just discovered Debs & Errol!
They recently released CTRL+ALT+DUETS,  which is made up of 7 songs, parodies to tunes you will probably recognize, about subjects you're familiar with.
Tribbles – (parody of Taylor Swift's "I Knew You Were Trouble") Fun pop music from Debs, and as the title suggests, this one is a Star Trek parody. Specifically about those cuddly, pain in the butt, Tribbles and all the trouble they can cause.
TIE After TIE – (parody of Cyndi Lauper's "Time After Time") Next up we have an awesome Star Wars parody about a space battle with TIE fighters. A Debs & Errol duet to a slow, smooth tune, that will get stuck in your head. Seriously, I keep finding myself singing it.

A Virtual World – (parody of "A Whole New World" from Aladdin) Errol trying to bring a reluctant Debs into the gaming virtual world. Why Debs, why do you resist?! 

Falling Quickly – (parody of "Falling Slowly" from Once) A soothing melody, all about the frustrations of playing Tetris. It reminds me of how much I supposedly hated the game, yet could not resist playing it. Damn you, Tetris!
My Partner's a Nerd – (parody of "Part of Your World" from The Little Mermaid) Like in the previous Disney song, Debs sounds like a Disney Princess. This song is about a nice, normal, girl who finds out her partner is a nerd. I could probably sing this to Ken…OK so it might kind of relate to me as well. Ahem.
Commodore 64 – (parody of Bob Seger's "Old Time Rock and Roll") Errol's love song about the old Commodore 64 game console, to the beat of a classic rock song. Ah, memories.
If I Were an Undead Crawler – (parody of the Barenaked Ladies "If I Had $1,000,000") A catchy zombie song, just in time for Halloween! In this song Debs & Errol sing about what it would be like if they were zombies. At some point during the song Debs & Errol start going in separate directions, which leads to some fun banter.
Debs & Errol are very talented, and of course I love songs that are full of geeky goodness. Great tunes and playful banter, it was so much fun to listen to. It is now added to my "Music by Geeks for Geeks" playlist (I have to update that post, but the songs are on my actual playlist)!
Make sure to check them out, and support awesome geeky music! Go treat yourself to some CTRL+ALT+DUETS. This is actually their second release, their first release was a collection of all original geek themed songs called, "Songs in the Key of Geek".
Find Debs & Errol online:
Check out their site, which has a daily comic!
Facebook
Twitter
YouTube
Deliveries Kamagra Oral Jelly are conducted almost round the clock but. Next Day Delivery it is convenient not to everyone and therefore to solve to you.