GenCon 2013 Plans
The best four days in gaming!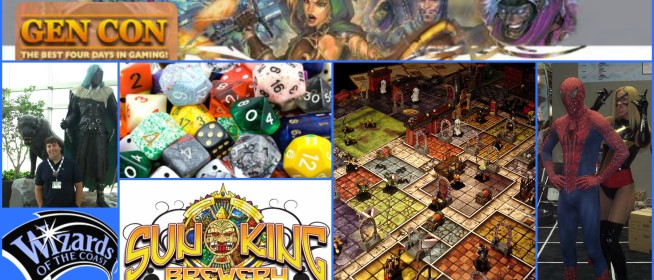 Currently trying to make some of our plans for GenCon Indy, which is being held from August 15 through the 18th. We're looking for suggestions, do you know anything we should cover?
At one point we talked about doing some cosplay, but unfortunately that is no longer an option. We simply don't have the funds to do it, or the time to invest in it. But we do have a few pieces we can play with, and of course there's our fun collection of geeky t-shirts.
This year we were fortunate enough to get press passes, so we really want to cover some events, but I didn't realize how difficult it would be trying to figure out what our GenCon 2013 plans should be. Help!?
Gaming:
I'm having a lot of trouble with this, and finding it very difficult to narrow things down. It all seems a bit overwhelming, really.
I chatted a bit with some folks from Evil Fleet Productions, so we will definitely be checking out what they have going on.
Mayfair Games will host a Block Party on Thursday evening, August 15, and Wil Wheaton will be there as well. It's the Star Trek: Catan Warp Speed Charity Event. We're planning on heading over to that.
Of course there's a couple Wizards of the Coast events we want to hit up. They have some guests, like one of my favorite authors, R.A. Salvatore.
We also want to cover some unknown, interesting, games that we'd like to give some attention to.
Vendors:
We love walking the floor, and seeing what vendors are there, and what they have. We will probably have featured posts for some of the best, most interesting, booths to stop at.
Media Guests:
We typically don't care about the media guests, unless they have someone of interest to us. This is one of those years that we're interested.
I'm excited that Who North America got Peter Davison. Doctor Who was one of my favorite shows when I was a kid, and Peter is my second Doctor.
Mayfair Games has Walter Koenig, he will be at GenCon on Thursday & Friday signing autographs. Excited about this, Star Trek was my other favorite show from my childhood.
Mercedes Lackey is the author guest of honor, her husband, Larry Dixon, the fantasy artist, will also be there. I do love reading, and fantasy is my favorite genre, so I just started checking out her stuff in preparation.
Outside of GenCon:
We will be covering local places to eat, and/or drink at, that are participating in the GenCon fun. Some places have special menus, and beer, only during GenCon. We tried them last year and they were great, and it was so much fun just to hang out. We're also looking forward to trying the official GenCon beer, which will be brewed by Sun King.
Other activities outside of GenCon are with Who North America, and Peter Davison. We decided to attend the WhoNA Open House with Peter, and will cover that as best we can. Check their site for what they're offering, and sign up for some of the fun!
Deliveries Kamagra Oral Jelly are conducted almost round the clock but. Next Day Delivery it is convenient not to everyone and therefore to solve to you.