Gifts for Nerdy Coffee & Tea Lovers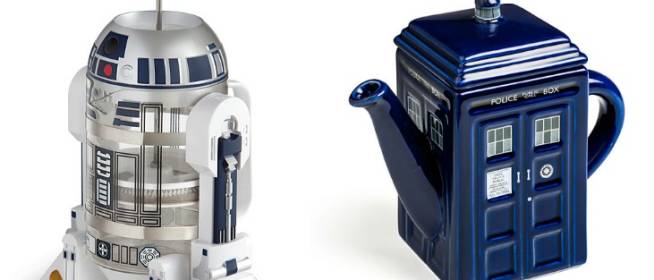 Some people usually prefer one over the other, but I love both coffee and tea. One of the first things I do in the morning, like most people, is make some coffee. But some days coffee is too harsh for me, so I got for some black tea instead, because I still need a caffeine boost. Or later in the night I have a nice herbal tea to help me relax.
If you know someone that loves either tea or coffee, or both, and you're not sure what kind of gift to get them, then I have some ideas for you!
Coffee Lovers:
French pressed coffee is a great way to start the day, and Think Geek has an exclusive French press that would make a great gift for the Star Wars lover in your life. At the time of this posting it's a pre order item, but it's so awesome! I mean, it's an R2-D2 coffee press!
Put together a gift set including a bag of locally roasted coffee, biscotti (if you can find a local baker who makes them, even better), some chocolate covered coffee beans, and a mug that represents something they love (Star Wars, Pokemon, Deadpool).
Tea Lovers:
Another great ThinkGeek gift, which happens to be another Star Wars item, is an R2-D2 ceramic teapot. A Star Wars Droid Kitchen Container Set
 would make a nice addition to that, because they can be used to store teas (and coffee). There is also a TARDIS teapot for the Doctor Who fans.
A gift set could include a Once Upon a Time Chip Mug
, locally baked scones, shortbread cookies, and a nice quality selection of loose leaf (or bagged) tea (caffeinated and herbal), and a tea infuser (like this awesome TARDIS one).
You could always add more to the gift sets by adding a book, puzzle book, magazine, or some other little gift you think they would enjoy.
If you don't have a ThinkGeek storefront near you some of these items may be hard to find last minute, but take a look around the mall, or local tea and coffee shops to see if you can find something that would be perfect for the caffeine addict in your life.