Gifts for Tabletop Gamers and Book Lovers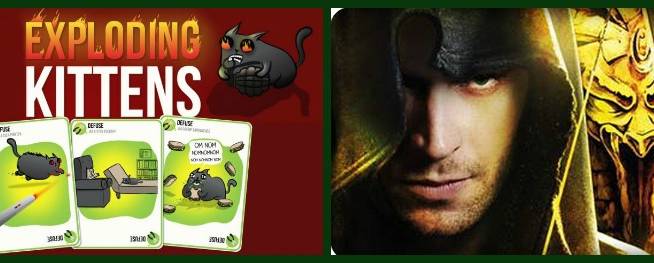 The Holidays are here, and you might be looking for some gift ideas. Well, I happen to have a few for you!
TableTop Games:
Munchkin The Nightmare Before Christmas
– Great for Munchkin game fans, and movie lovers. And of course the Nightmare Before Christmas theme is great for the Holiday season!
Holiday Fluxx
– Seasonal themed version of Fluxx. Fun and easy to learn, great game to play with your friends and family this Holiday season.
Exploding Kittens
 – A Card Game About Kittens and Explosions and Sometimes Goats. There is also a NSFW Edition
!
Books:
Ready Player One
 – This is a must read book for any video gamer!
William Shakespeare's Star Wars Trilogy
 – A great collection of books for any Star Wars fan. It even comes with a poster!
Robin Hood Demon's Bane
– A new take on the classic tale of Robin Hood.
Gift Set Ideas:
How about making a thoughtful gift set for your favorite gamer or book lover?
Book Lover: Find an new book
, or a classic, a tote bag
, and a Bookmark
. Maybe include a Mug
, and some tea and, or coffee. I know that I love to sip on a warm drink when I get lost in a book!
Tabletop Gamer: Put together a gift set devoted to game night! Maybe include a Card Game
, a Dice Game
, and some snacks (popcorn, chocolates, and energy drinks
)!