Guardians of the Galaxy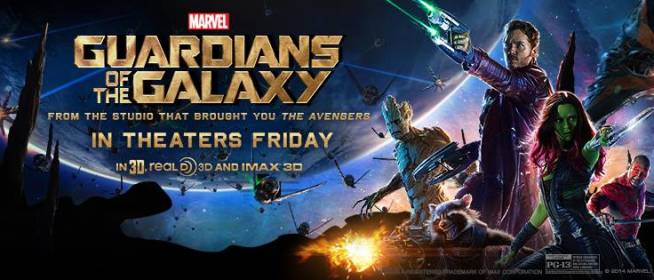 Last night we spent a couple of hours at the movie theater falling in love with Guardians of the Galaxy.
"Marvel's "Guardians of the Galaxy" finds space adventurer Peter Quill the object of a bounty hunt after stealing an orb coveted by a treacherous villain, but when Quill discovers the power it holds, he must find a way to rally the quartet of ragtag rivals hot on his trail to save the universe."
Our favorite band of misfits do not start off as friends, just the opposite. But they begrudgingly find themselves united with a common goal, and through that we see them come together, and manage to form a bond with one another.
There is a heavy focus on comedy, but there's also a seriousness to the movie. I found it balanced pretty well, even though sometimes I felt the serious side of the story may have gotten a little lost.
Very well cast, Chris Pratt's portrayal of Peter Quill made me fall in love with him (both the actor, and the character). Zoe Saldana is always wonderful, and she had more of a chance to shine in Guardians than she did in a certain other space themed movie that she was in (Star Trek). Karen Gillian is better known to most fans as the sassy Amy Pond on Doctor Who, her performance as the devious Nebula showed me she has an acting range that I did not expect.
One of my favorite parts of any movie is the soundtrack, and they did a great job with this one. I can't believe how well the "Awesome Mix" music fit into this movie, in my opinion it was pretty masterful.
The stinger at the end of the movie doesn't add anything to future movies, it's just there purely for entertainment purposes, bringing back a Marvel character you may not expect. It certainly had our packed theater busting out laughing.
If you're looking for a crazy, good time at the movie theater, filled with a lot of laughter, then you seriously need to hit up Guardians of the Galaxy.
Deliveries Kamagra Oral Jelly are conducted almost round the clock but. Next Day Delivery it is convenient not to everyone and therefore to solve to you.