Indiegogo: Kind Chef App

Kind Chef could definitely be a useful app when looking for a place to eat, and a neat little thing about it is the game function.
What you get with Kind Chef; A search engine that will help you decide where to eat, based on what you're craving, and your budget. You will also be notified of special offers from your favorite places. There's also a social network of sorts built into the app.
One of the interesting functions of Kind Chef, in my opinion, is "Kind Chef the Game", play the game, and earn coins. Those coins are real, and KindChef will use them to pay for your meal at your favorite place.
There's also an augmented reality feature, you can point your camera at your plate, and a 'Kind Chef' will appear, whom you can talk to and ask any question about your meal.
To learn more,  check out the KindChef Indiegogo.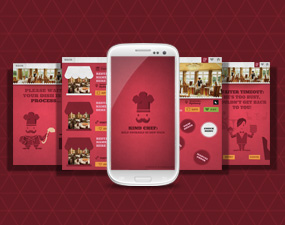 Deliveries Kamagra Oral Jelly are conducted almost round the clock but. Next Day Delivery it is convenient not to everyone and therefore to solve to you.