Infamy Board Game by Mercury Games
Cyberpunk criminals on Mars... what more could you want?!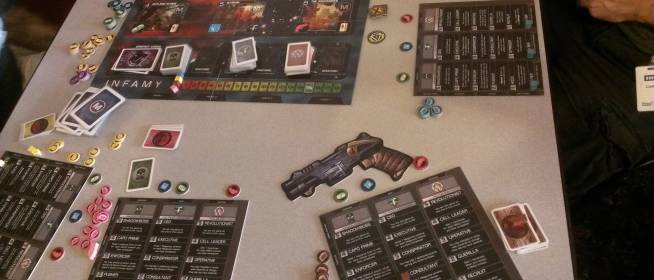 Update 2:
I was just at one of my local game shops, and what do I see on the shelf, non other than two copies of Infamy! If you're looking for this game, it's also available on Amazon, here!
Update:
Unfortunetly, Infamy did not reach it's kickstarter goal. However, it appears that Mercury Games has a back-up plan, and the game is still going to be available to purchase. Information from Mercury Games is available in the following link:
http://boardgamegeek.com/thread/1039428/kickstarter-update-and-contingency-plan
---
I got the chance recently to try out a new board game that is currently on Kickstarter. The game is called Infamy, it's being published by Mercury Games, and I gotta say, my playthrough of it was pretty fun. Even though I got my ass handed to me.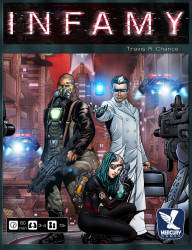 Infamy is a game where you fill the role of a Freelancer on the Martian colony of ARES-6. You are trying to climb the ladder of the criminal underworld, gaining infamy points, or enough reputation with one of three factions to take over and be the boss. The game involves purchasing the services of various Contacts, collecting resources in order to complete missions, building an army of minions, and scheming to complete your goals.
Contacts do various things, such as give you resources, or help you in other ways. But to get a contact to help you, you have to bribe them, and you're not the only one that wants to hire contacts. In the end, a contact will only work for the high bidder of a round.
For a much more detailed explanation of how the game works, here's a demo playthrough with the game's designer, Travis R. Chance.
My thoughts on Infamy
I liked it, I liked it a lot actually. There was quite a bit going on, and quite a lot of strategy that can take place, with so many different ways to try to win. So for me at least, I feel like I need another playthrough or two to really get the hang of what I need to do. But I think I'm kinda slow.
In the end, the game was fun to play through, and I had a good time, so I think that's all that really matters. I'd love to pick this game up and spend an hour or so playing with some friends.
As I mentioned before, the game is currently gathering funding on Kickstarter. I think it would be well worth going over there and helping to fund this awesome looking game.
Infamy board game on Kickstarter
Deliveries Kamagra Oral Jelly are conducted almost round the clock but. Next Day Delivery it is convenient not to everyone and therefore to solve to you.