July 2014 Loot Crate: Villains (Review)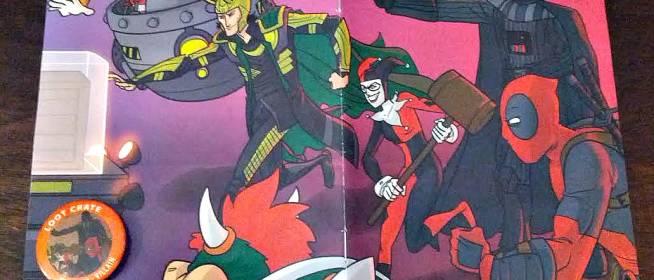 When I heard the LootCrate theme for July would be "Villains" I was super excited. Villains are easily my favorite in movies and TV Shows. They are just so deliciously evil.
The box this month was a different shape than normal, as they wanted it to be able to nicely fit a comic book, so it was wider, and it was narrower. The inside of the box was different as well…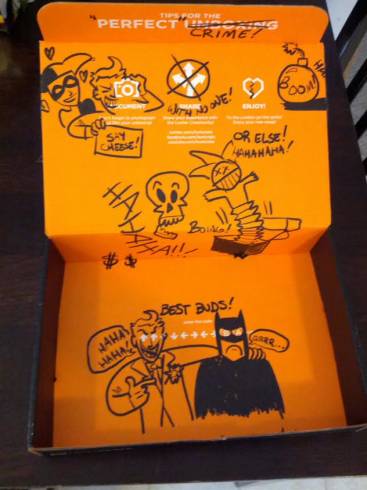 Inside July's Loot Crate:

Exclusive Rocket Raccoon Comic – From Marvel & Diamond comics, the small, adorable, foul-mouthed Rocket Raccoon #1, with a variant cover just for Loot Crate! It's nicely protected, not sure I want to open this comic.
Joki Villain T Shirt – A shirt that combines two awesomely chaotic villains. How could I not love this shirt? It comes from Woot!, great design, nice quality, and accurate fit. Loving this T Shirt!
Harley Quinn and Joker Posters – A couple of nicely designed posters from DC Comics & Trends International. I really need to find some frames for these, I can't wait to see how they look hanging on the wall!

Deadpool Socks – Finding socks in the crate was unexpected, and kind of cool. Plus, they are everyone's favorite anti-hero, Deadpool!
Darth Vader Key Chain – One of many things I collect, keychains, which also happens to be in one of my favorite fandoms, Star Wars.
Necessary Evil DVD – Christopher Lee (The Lord of the Rings & The Hobbit) narrates this documentary that explores the villains of DC Universe. I haven't watched this yet, but can't wait to check it out!
Bowser Magnet – Another fun magnet from Loot Crate Labs. Bowser wants some help thwarting those obnoxious plumber brothers.
This month's crate was truly villainous, with a lot of great items inside. Their July theme video hinted that there will be a continuation next month. Will there be a Heroes crate for August?
Loot Crate is great as a treat for yourself, or a present for the geek/gamer in your life. It's a lot of fun receiving a mystery package in the mail each month! There is a $40 retail value in every crate, and they only cost $13.37 (+s/h). Subscribers also have the chance to win a mega crate each month, that has a value of $750+.
Subscribe to LootCrate!
Deliveries Kamagra Oral Jelly are conducted almost round the clock but. Next Day Delivery it is convenient not to everyone and therefore to solve to you.