June 2014 Loot Crate: Transform
More than meets the eye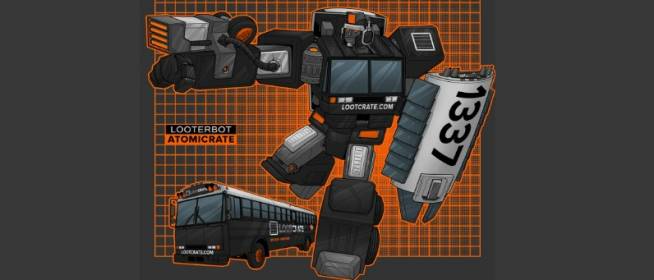 This month's crate was a bit unusual, because it had a very specific theme, and a majority of the items were from Transformers. Usually the theme is more 'generic', and the items varied. 
Inside June's Loot Crate:

Marty McPrime Shirt
– Love the design, which is obviously a Back to the Future/Transformers mashup, but I must have missed the email for the sizing (they usually do send one). I had my account on my default sizing, and this shirt was HUGE (fits at least 3 sizes too big). It was a women's tee, but was shaped more like a mans, very boxy. I'm wearing it as a nightshirt.
Transformers Blind Box
– I'm addicted to blind boxes, so I am always happy to see one in a subscription box! The figure is actually pretty cute, love it!
Transformers Sticker – I do collect stickers, so this works for me, just need to figure out where to put this one.
Transformers HEXBUG
– I had never heard of HexBugs, but now that I have, I want more! It's cute, and I'm having fun playing with it.

MLG Wristband – Ken stole this from my crate, and wears it when he games. Because that seems pretty logical.
MLG Starter Kit – This is for one month of GameBattles Premium Access, and stickers representing the top MLG teams! Of course, this was also stolen by Ken.
Of course there was also the monthly collectible button, and this crate included a few pieces of Warheads Extremely Sour hard candy!
Overall a pretty nice crate this month, unless you happen to hate Transformers. I may have been disappointed in the sizing, and shape of the tee, but that was the only let down. I know other people were happy with it, so that may have been my fault for not checking on the shirt sizing.
Subscribe to LootCrate!
Deliveries Kamagra Oral Jelly are conducted almost round the clock but. Next Day Delivery it is convenient not to everyone and therefore to solve to you.