Manga Review: MeruPuri Marchen Prince
A magical adventure!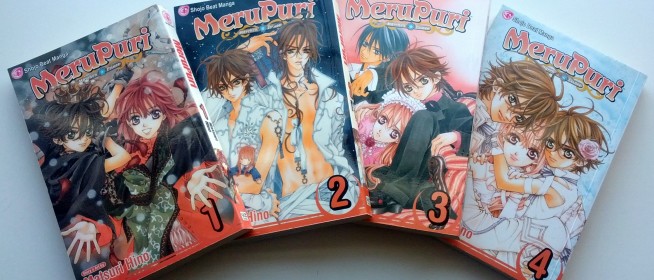 MeruPuri was written and drawn by mangaka Hino Matsuri, she's mostly known for Vampire Knight, another favorite of mine. There are 4 volumes of this manga that were published by Viz Media, Shojo Beat Edition.
Genre: Fantasy/Romance
Original Viz publish dates: Vol. 1 June 2005, Vol 2 September 2005, Vol 3 December 2005, Vol 4 April 2006
How it all Begins:
This story starts off in a world called Astale, with his Highness Jeile casting a spell on his young half brother, Aram. Before the spell completely hit it's mark Prince Aram was able to escape through a mirror portal to another world.
In the other world we meet Airi, a 15 year old Japanese school girl. She's a day dreamer, and a bit lonely. As she is rushing off to school her heirloom mirror falls out of her pocket. This mirror serves as the portal that Aram arrives through.
Airi runs back to get her mirror, and finds the young boy holding it, she talks to him for a bit, then realizes she will be late for school and dashes off again…Forgetting to take her mirror.
After school is out Airi finds young Aram standing where she left him, still holding the mirror. She's not sure what to make of him, and assumes he's some ambassadors kid and is lost. She feels bad for him and tells him he can stay at her house until whoever he's waiting for comes for him.
Even though Aram comes across as very mature for his age, you see the childish side of him when he discovers he likes an anime; Sparkle Rangers, and rice omelettes.
The next day is when Airi's life takes a turn for the dramatic. Instead of waking up and finding young Aram, she wakes up to find a 17 year old boy in her bedroom!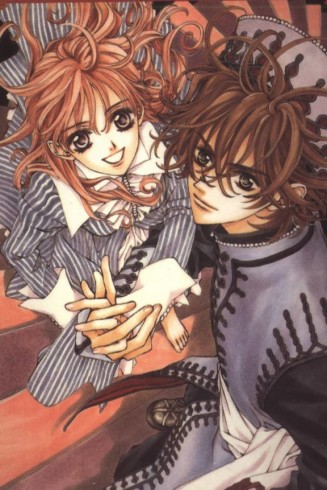 Summary:
As you can probably tell, Airi's life will become a crazy series of events. She finds out a secret about her ancestor, why her mirror acts as a portal between the 2 worlds, and realizes her life is not destined to be the simple one she dreamed of.
There's romance, adventure, mystery, magic, and lots of fun and excitement.
I love this manga. The art work is beautiful, and Hino Matsuri brings us a very captivating story from start to finish.
Characters:
Aram – The young prince. Mature, but also a little childish and stubborn. He chooses Airi as his "favorite".
Airi – Lonely day dreamer. Obsessed with a drama called, "Tales of Marriage on the Plains" and  is always dreaming of a simple life, with the perfect husband.
Jeile – Aram's older half brother. Ladies man, mischievous, sometimes seems like an idiot, but has a good heart underneath it all.
Nakaoji – Airi's classmate. At one point he confesses that he likes her. We later find out an interesting secret about him.
Lei – He's basically Aram's caretaker. He seems distant, calm and mysterious.
Mariabell – Promised as Aram's fiancee. She is a young girl, childish, and very jealous of Airi.
Raz – A prince from Astale. He comes across as steely, and a trouble maker. He has an interesting connection with Airi.
Maruru – Jeile's fairy, he saved her life when he was a young boy, and she is very dedicated to him.
While you're here, check out my 'Geek Fashion: Vampire Knight' post!
Deliveries Kamagra Oral Jelly are conducted almost round the clock but. Next Day Delivery it is convenient not to everyone and therefore to solve to you.