March 2014 Loot Crate: Titan (Review)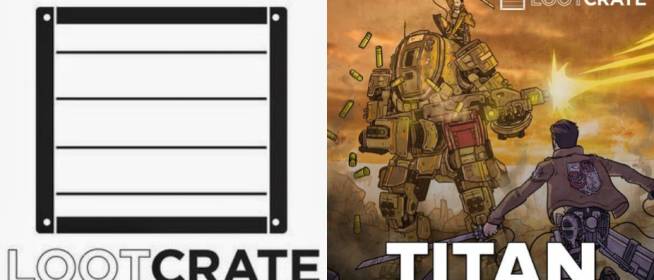 For March Loot Crate partnered with EA and Respawn to bring looters a "Titan" themed crate.
In trying to save some money, we had to cancel our LootCrate subscription. Turns out that only lasted one month because when they announced that the March theme would be "Titan", and that it would be filled with exclusive items from the video game, Titanfall (Xbox One
& PC
), and the anime
& manga
, Attack on Titan, I knew I had to sign up again, because I was worried I would regret not getting this box if I let it pass.
Inside March's Loot Crate:

Titanfall T-Shirt – This shirt can't be found anywhere else (unless someone stole the design). It was made specifically for this crate, and is based on the shirt that the development team had. This is an awesome design, and will be worn often!
Attack on Titan Manga
– Until now I had not read the manga, and the day I received the box I decided to start Netflixing the anime, which had been sitting in my que because I kept hearing such good things about it. Both anime & manga are great, loving this series so far!
Titanfall C101 Lanyard – Great for conventions & events, and designed specially for this months crate. I gave this item to Ken, as he's been wanting a new lanyard, and thought this was awesome (BTW, he's very jealous of the epic shirt I got in the crate).
Attack on Titan Scouting Regiment Wristband – Granted, I don't wear wristbands/sweatbands, but this is still pretty awesome, and I might find an excuse to wear it. As far as I know this item is not for sale anywhere (yet?).
Titanfall Premium Strategy eGuide ($9.99 value) – We're not sure why we need a strategy guide, because the game seems pretty straightforward, but we will check it out soon. I'm sure it will come in handy somehow!
Attack on Titanfall Magnet – (pictured below with LootCrate March 2014 button) This magnet is a mashup of the two franchises that are inside of the box, and I love it. It has earned a spot on my fridge.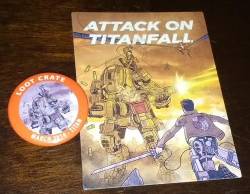 And of course each month there is the mini magazine, and a button representing that month's theme. Some boxes also received taffy for St. Patrick's Day, sadly there was no taffy in my box.
Overall I thought this was a great crate, and the value was definitely more than what I paid for the box. The shirt alone has to be worth around $18.
Subscribe to LootCrate!
Deliveries Kamagra Oral Jelly are conducted almost round the clock but. Next Day Delivery it is convenient not to everyone and therefore to solve to you.