Model Life Takes Fashion Week (Digital Graphic Novel)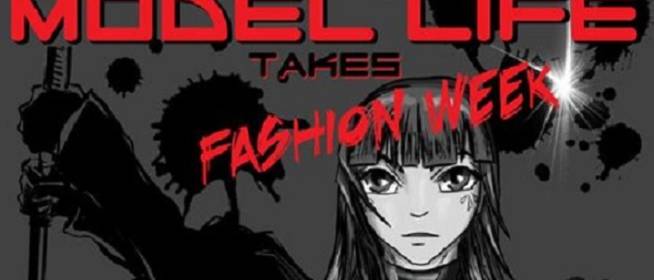 Model Life Takes Fashion Week (Gamine Press), is a new digital graphic novel series. It's sort of like Kill Bill Meets the Fashion World.
When I heard from Isabella about her new graphic novel series I was intrigued, and couldn't wait to check it out. I definitely enjoyed reading it, and loved the art style, it was very much in the style of a manga. It's an interesting tale of revenge, and mysteries, which touches upon topics such as bullying, and abuse. Find out more below…
Model Life Series:
With a Kill Bill meets the Fashion World vibe, the Model Life on-going series shares a moment in time with fashion's elite all around the globe and reveals the glamour and darkness that occurs when perfection and beauty encounter revenge, tragedy and betrayal.Fashion illustration meets the graphic novel world with Jazmin Ruotolo's expressive and dramatic style and author-model Isobella. Jade brings years of experience in the modeling industry to the page with some added chaos and weapons.
#1 Model Life Takes Fashion Week:
It's New York Fashion Week and fashion model ISO's debut. She has risen from the ditches and darkness of the industry to become the "little Heron." It's her model moment, despite her recent involvement in the mega court case against a malicious magazine editor. All promises to be glamorous until her tragic runway fall that tumbles into a streak of painful surprises. ISO walks the catwalk by day and by night goes undercover in disguise, led by the cries of the model newbies who ISO feels obligated to protect. Just when she's found that feeling of empowerment again, pain strikes and she's on a mission to find out who killed her best friend.
About the Author & the Artist:
Isobella Jade is known as one of the shortest working models out there and for how she wrote her modeling memoir, Almost 5'4", at an Apple retail store. Despite her petite size she has worked as a print and parts model for national brands and magazines, and has pushed the boundaries in modeling as an inspirational advocate for girls of all sizes.
Jazmin Ruotolo has designed for many successful fashion lines including House of Dereon, Mudd and Sean John. Jazmin's illustration background ranges from promotional fashion illustrations to graphic novels.
Deliveries Kamagra Oral Jelly are conducted almost round the clock but. Next Day Delivery it is convenient not to everyone and therefore to solve to you.