Nerd Night Out: Geek Trivia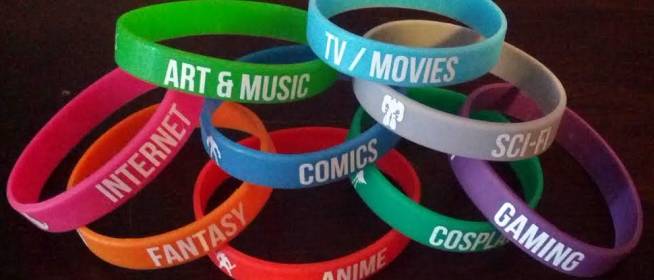 The Indy Pop Con crew got together with Think Indy Events for a trivia night, hosted at Scotty's Brewhouse. Of course we were in attendance.
The questions consisted of the Pop Con categories covered at their convention; Internet, Comics, Fantasy, Sci-fi, Gaming, Anime, Art & Music, TV & Movies. We had 5 questions in each category, and we were also given a sheet with the logos of fictional companies from games, TV & movies. We managed to figure out most of the logos, we were pretty proud of that, but frustrated we didn't know two of them.
The top 2 trivia teams were given prizes, and everyone in attendance received posters, and PopCon rubber bracelets. We teamed up with a couple of people we originally met through twitter; Mike, and Matt. Mike was quick with a lot of the answers, he's pretty much Super Geek. Unfortunately, my blanking out, and a few other mistakes, means that we (Team Troxelled) only managed 3rd. But it was a lot of fun, and we love meeting up with our friends, and fellow geeks.
We didn't even lynch the girl who confused Star Trek & Star Wars, or the trivia host when he mispronounced "Dalek". OK, so they both got playfully booed, it was all in good fun.
Deliveries Kamagra Oral Jelly are conducted almost round the clock but. Next Day Delivery it is convenient not to everyone and therefore to solve to you.