Peter Davison at Who North America Warehouse
Meet the Fifth incarnation of The Doctor at the WhoNA warehouse in Indy.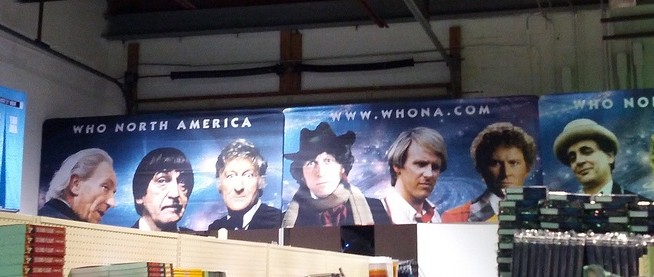 I'm not sure if this is subject to change, but for now this is the info that has been announced by Who North America, an online store who's warehouse is located in Indianapolis, Indiana.
They have been working since last year to help get Peter Davison for GenCon, and it finally happened. They also said they would have an in-warehouse event with Peter, then earlier this week they revealed some details…
"The Warehouse visit is on Thursday, August 15 from 7 pm to 9 pm. There will be a cover charge to enter the facility which will include one autograph of any item purchased within the facility. Items purchased from us prior to his visit can be autographed with presentation of a WhoNA receipt or packing list. He will also be selling some autographed photos on that day. Additional autographs may also be purchased if we are not too overwhelmed with people.

Reservations for the WhoNA Open House will be announced in the upcoming months."
WhoNA will be having other events with him that week. There will be a panel discussion at Tilt Studio Indy on Friday night, and an "Intimate Dinner" with Peter at The Library restaurant & pub on Saturday night. They haven't revealed the exact details on these events yet, we will let you know once they do!
If you live in the area, and are not attending GenCon, but still want to meet Peter, this will be your chance! Once we have more details we will be posting them, for now we just wanted to give you a heads up!
Deliveries Kamagra Oral Jelly are conducted almost round the clock but. Next Day Delivery it is convenient not to everyone and therefore to solve to you.