Peter Davison will be at GenCon
Who North America's special guest!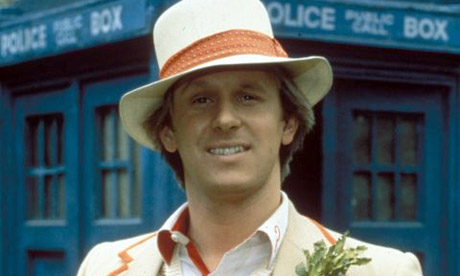 We went to the Who North America open house on Saturday where we met up with fellow geek blogger Tony, from Geeking in Indiana. Had a fun time chatting with him, but none of us were expecting what came next…
For months the awesome folks over at Who North America have been hinting that they were working on getting a very special guest this year for GenCon, and we waited patiently until they could tell us who it would be. Then as we were chatting with Tom, who works at WhoNA, he was able to finally reveal that the contracts were recently signed, and Who North America's special guest for GenCon will be the Fifth Doctor, Peter Davison!
Last year Who North America had Nicholas Briggs at their booth, voice of the Daleks. That was pretty awesome, but this is a whole other level for me. I grew up watching Doctor Who on PBS, so Davison was my second Doctor. Which means I will either geek out, or flake. We will see. Actually, what I meant to say was, I'm a professional and, you know, I'll be all cool and collected…and stuff?
We don't have all the details yet, as this is still new, but we're hoping to find out more soon. Will he also be an GenCon Media Guest of Honor? We're not sure. We do know that he will be at the WhoNA warehouse for one of the nights, but the final info hasn't been announced yet. We will keep you posted!
*Disclaimer: This was posted with the permission of Who North America.
UPDATE – April 16, 2013:
GenCon has now officially announced Peter Davison as a media guest of honor.
From their site:
Mr. Davison will be signing autographs in the Media Guest Autograph Area located in the Exhibit Hall with the following schedule:

Thursday – 10am-12pm & 2pm-4pm
Friday – 10am-12pm & 2pm-4pm
Saturday – 10am-12pm & 2pm-4pm
Sunday – 10am-12pm & 2pm-3pm
While you're here, learn more about Who North America in our previous post about them, and if you live locally then make sure to come out for WhoNA's monthly Doctor Who screenings in Downtown Indy.
I think I'll just leave this here…
Deliveries Kamagra Oral Jelly are conducted almost round the clock but. Next Day Delivery it is convenient not to everyone and therefore to solve to you.