Pilot Rewatch: Warehouse 13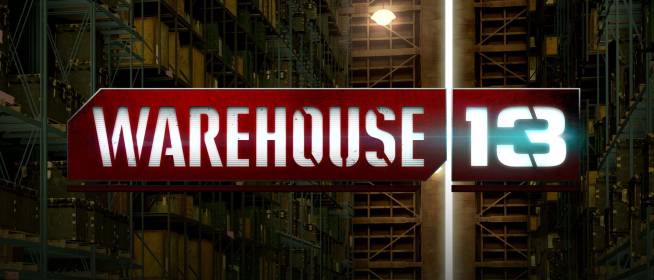 Warehouse 13 – Pilot
Season 1, Episode 1 – Original Air Date: 7/7/2009
I'm already missing Warehouse 13, so I decided it was time to revisit the pilot episode, which will no doubt lead into me marathoning the first season.
The show starts by introducing us to the main two characters, Secret Service Agents Myka, and Pete (who don't seem to get along), we quickly get a peek into their personalities. They are working a detail at a museum, where an employee accidentally activates, and gets infected by, a mysterious artifact (a skull). As Myka faces off with the infected man, Pete realizes there's something wrong with the skull, takes it and runs off. When he trips, and drops the skull, Artie (or, at this time, a mysterious man), stops it with his foot. Pete draws his weapon on him, but Artie quickly neutralizes the artifact, and disappears in the confusion. Later when Pete gets home he finds a strange woman in his apartment, Mrs. Frederic, who says she works for the government, and recruits Pete for a "Matter of National Security".
Now that we're at the warehouse, and have officially met Artie, we immediately learn he's pretty quirky. We also discover Pete has a curious, almost child-like, nature, and Myka is uptight.
At this point there is a lot of setting up the series for us. What the warehouse is for, what the artifacts are about, more character development. And of course Myka and Pete find themselves in a couple of small spots of trouble as they tour the warehouse. Neither Agent is happy about the assignment, but Pete seems to be taking it in stride, whereas Myka is aggressively trying to get transferred back to DC.
In the meantime Artie has a case for the new Warehouse agents, one they are not impressed with, as it seems to be a waste of their abilities. Once they are on assignment they discover the case isn't as simple as it first appeared.
Notes of Interest:
When Artie offers her a cookie, Myka states she doesn't eat sugar. But we soon learn she will indulge when she is upset by something. Pete is easily won over by cookies, and his curious nature makes him want to touch ALL the things. This is an ongoing theme throughout the series. Get used to people telling Pete not to touch things, or getting annoyed with him because he touched things, and of course caused a problem.
Leena (from the bed & breakfast Pete & Myka stay at) and Mrs. Frederic are both very unusual, and mysterious. They are also apparently older than they appear.
My Thoughts:
The show starts off with an almost more serious tone, until we get to the warehouse, then it lightens up a bit, and you get to the show, and characters, that you will come to love.
Back in 2009, when I first heard of Warehouse 13,
 I was only mildly curious. When I first saw the pilot episode I remember not caring too much about it. The boyfriend liked it, so I gave it a chance. I remember still not being too happy with it by the end of the first season, though I did really like Artie. I didn't hate the show, I just felt indifferent. But then when the second season started, it quickly became one of my favorite shows. Go figure.
I rewatched the first season a couple of years ago, and for some reason that time around I found myself liking it a lot more than the first time I saw it. I'm not sure what changed. Maybe it was because I came to 'know' the characters better, maybe I was just in a weird place in my mind when the show first premiered. I have no clue, but either way, I'm glad I never gave up on it.
Deliveries Kamagra Oral Jelly are conducted almost round the clock but. Next Day Delivery it is convenient not to everyone and therefore to solve to you.