Gaming Night: Star Fluxx
The ever changing card game...In space!

We've been wanting to play more games that are not on the PC, or console. Basically, we want to get into tabletop games. Or for me, get back into them. One of the things I used to love were various card games, then an episode of TableTop with Wil Wheaton lead me to Star Fluxx
.
Recently we were heading out to Arsenal Game Room to meet up with Indy Tabletop so Amanda could pick up the prize she won from a drawing with them, a 4-day pass to GenCon. We've been to Arsenal Game Room one other time, on TableTop Day when we were meeting up with a couple of our 'Indy Geek Bloggers', and it had great atmosphere for gamers. Probably because it was made, and is run, by a long time gamer. Since we were going there again I wanted to take advantage of the opportunity, so this time I made sure to put Star Fluxx
in my bag, and talked Ken and Amanda into a game while we were there. We had a lot of fun with it, and will be playing it often.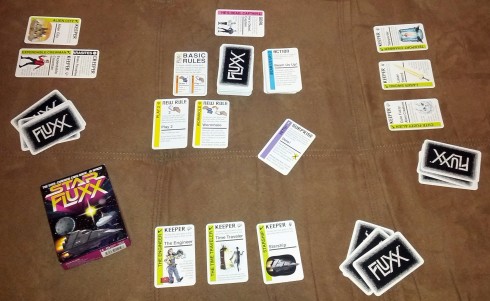 Fluxx is a card game for 2-6 players, where the rules are always changing as you play. Depending on how game play goes, it can last anywhere from 10 minutes to around an hour. They have various versions of the original game; Zombie, Pirate, Monty Python, etc. The one we picked up, Star Fluxx, has a science fiction theme, which is the reason we wanted it. There's a lot of references to famous movies, and TV shows that we love. We had never played any variation of Fluxx before, but it was easy to learn, and fun to play.
This is a game we highly recommend. Not only is it great fun, but because of the always changing rules it never gets boring, and it's easily portable which I find convenient for many reasons.
Check it out on Wil's TableTop show, you'll see why we love it…
Deliveries Kamagra Oral Jelly are conducted almost round the clock but. Next Day Delivery it is convenient not to everyone and therefore to solve to you.