Saturday is Free Comic Book Day!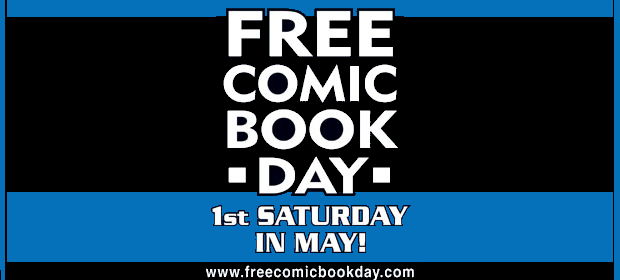 Make sure to hit up your local comic shops on Saturday to get some free comics for FCBD! This is a great way to introduce your young ones to the world of comics, and to find something new to check out.
Here are a few comics to look forward to! Of course there will be more, these are just a few we are excited to check out. Let us know what comics you're looking forward to!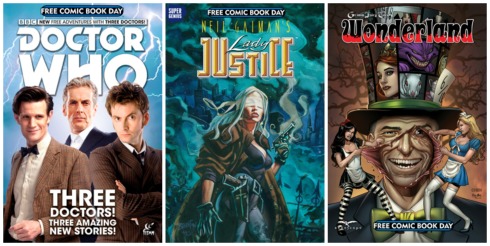 Doctor Who Take a blistering trip through time and space with three stunning ALL-NEW short stories featuring Tenth Doctor, Eleventh Doctor and the brand-new Twelfth Doctor by the ongoing DOCTOR WHO creative teams – PLUS a sneak peek of the TOP SECRET Summer 2015 event! Be the first to get a hint of the epic that will shake the Doctor to his core! It's an unmissable read for fans, and the perfect primer for anyone looking to jump on board the TARDIS!
Lady Justice Back in print for the first time in two decades! Lady Justice FCBD edition reprints issue #1 of Neil Gaiman's lost comics classic.
Wonderland Someone's up to their old tricks in Wonderland and it's up to Callie, the White Queen, to stop them! Nothing is ever as it seems in the dark, twisted, nightmare world of Wonderland, and the madness never stops reaching out to Callie's friends and foes alike. Is there a traitor in the White Queen's court?
For Kids: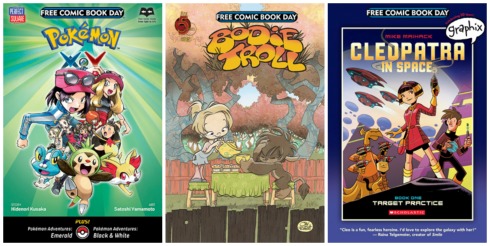 Pokemon – All your favorite Pokémon game characters jump out of the screen into the pages of this action-packed comic! Legendary Pokémon Xerneas and Yveltal 's battle against each other is destroying Vaniville Town. Can X and Y save the town in Pokémon X o Y?!
Bonus Feature: More action in Pokémon Adventures and Pokémon Adventures Black and White!
Bodie Troll – With a mix of playfully irreverant humor, attention-grabbing art and incredible heart, BODIE TROLL is a perfect first comic to give to a non-comic-reader of any age. In an all-new exclusive adventure, things turn ugly for cute BODIE TROLL when he gets hijacked into that most agonizing of events – a little girl's tea party!
Cleopatra in Space – When a young Cleopatra (yes, that Cleopatra) finds a mysterious tablet that zaps her to the far, really far future, she learns of an ancient prophecy that says she is destined to save the galaxy from the tyrannical rule of the evil Xaius Octavian.
There will be a lot more great comics for kids, like Avatar, Gronk, Teenage Mutant Ninja Turtles, and more. I just wanted to highlight the top three I found interesting. Pokemon had to be in there, because I simply LOVE Pokemon!
Deliveries Kamagra Oral Jelly are conducted almost round the clock but. Next Day Delivery it is convenient not to everyone and therefore to solve to you.