Seasonal Themed Game Nights for October

It's October! Autumn is in the air, leaves on the trees change colors, there's pumpkin spice everything, and of course there is Halloween. It's a great time to have game nights with friends and family. Pick from card, dice and board games.
Gloom – Pick a creepy family to play, and try to make them as miserable as possible until they die. As you play you can weave stories with your friends and their chosen families. What unfortunate events will happen to your family?
Are You A Werewolf – A game of deception, paranoia and mob rule. There are a coupe of werewolves killing people at night, and they live among you. Will you be able to guess who they are before everyone in your village dies? Great party game for your Halloween gatherings!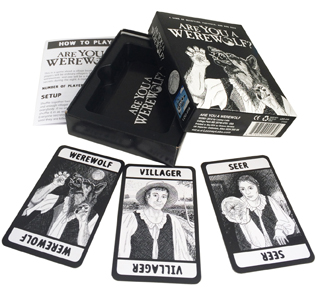 Zombie Dice – You are a zombie. You want braaains. Don't get shotgunned! This is a fun, fast paced game! Great fun for anyone.

Betrayal at House on the Hill – this is a tile game that allows players to build their own haunted house room by room, tile by tile, creating a new thrilling game board every time. The game is designed for three to six people, each of whom plays one of six possible characters.
Secretly, one of the characters betrays the rest of the party, and the innocent members of the party must defeat the traitor in their midst before it's too late! A fun, suspenseful, and strategic game.
Nightmare Before Christmas Munchkin – If you're already a fan of the Munchkin card game, this is a must have! Also a great way to get friends into the game.