September 2014 Loot Crate: Galactic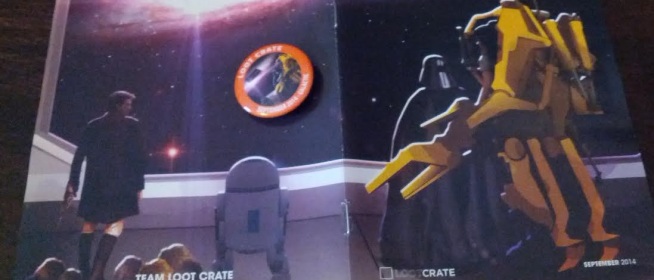 With the promise of exclusive Star Trek, Star Wars, and Firefly items, there was no way we were going to miss the September LootCrate. The theme: "Galactic".
Inside September's Loot Crate:

Science Fiction Vinyl Figure
– This specific Mal figure was made exclusively for Loot Crate, by Funko, but there are others you can collect in this series of mystery minis!
Star Trek Tribble
– From Quantum Mechanix, this tribble was made in a different color exclusively for Loot Crate.
Alien Re-Action Figure
– Another great Funko product, Looters received a random figure from this series. I was happy I received the Alien!

Star Wars Retro Arcade Magnet – A Loot Crate Labs & Lucasfilm item made just for Looters. It looks like an Star Wars Asteroids style game (on a magnet!).
Firefly – Bank Robbery Money
– A Quantum Mechanix item, nice size, and looks great!
Halo Escalation Digital Comics – From Dark Horse comics there was some digital loot, the first 3 issues of Halo Escalation.
Han Solo in Carbonite Poster – Love this poster, but disappointed it was folded up.

This month Loot Crate also released a fan made short film, called "The Verse" set in the Firefly universe.
Loot Crate is great as a treat for yourself, or a present for the geek/gamer in your life. It's a lot of fun receiving a mystery package in the mail each month! There is a $40 retail value in every crate, and they only cost $13.37 (+s/h). Subscribers also have the chance to win a mega crate each month, that has a value of $750+.
Subscribe to LootCrate!
Deliveries Kamagra Oral Jelly are conducted almost round the clock but. Next Day Delivery it is convenient not to everyone and therefore to solve to you.