Snack Review: belVita Breakfast Biscuits
Cinnamon brown sugar flavor. So good!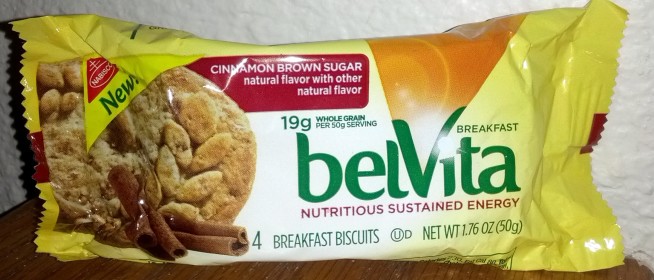 I tried the cinnamon brown sugar belVita breakfast biscuits. I could taste the spices, not overpowering, but just right. The brown sugar and cinnamon tasted as they should, the flavor was not lost as I often find it can be in other things that claim to have these flavors. I could also taste some molasses in there, and all the flavors came together nicely in these slightly sweet, crisp biscuits.
When I saw these biscuits at the store I wasn't sure about them, so I passed them by. That was a big mistake, they are already on my next shopping list. I really, really enjoyed these, and I can feel an extra burst of much needed energy this morning. I highly recommend them to anyone who wants a quick, healthy and tasty treat for breakfast.
You could also eat these any time of the day, not just for breakfast. Being a gamer I see this as a new healthy snack, replacing all that bad stuff gamers normally to reach for. This is perfect for me!
belVita Breakfast Biscuits come in a box with 5 packets of 4 biscuits and retail for $3.69. They are a good source of fiber and B-vitamins and have 18-20 grams of whole grain per 50 gram serving.  A few more nutritional facts for 1 serving: 230 calories, 8g fat, 35g carbs, 3g fiber, 4g protein.
As part of my Sugar 'n Spice VoxBox I received a packet of belVita Breakfast Biscuits, complimentary from Influenster for testing purposes.

Deliveries Kamagra Oral Jelly are conducted almost round the clock but. Next Day Delivery it is convenient not to everyone and therefore to solve to you.