Snack Review: Eatrageous Chips
The new spin on chips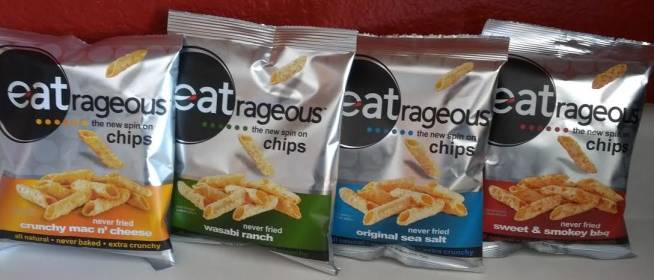 We recently received a package of chips to sample from eatrageous. But these aren't your average chips. These chips are tube shaped, and seriously crunchy. 
Their chips come in 100 calorie bags, are all natural, have 0 trans fat, are never fried, and are gluten free. Eatrageous also give 5% of their profit to charities.
We love chips, and are always looking for healthier, yet also tasty, alternative to the usual. These chips seem to fill that roll nicely. Perfect for our movie and gaming nights!
I was surprised by the BBQ flavor on these chips, it's not like your average fake flavor on other chips. This actually reminded me very much of BBQ, it was bold and very tasty, I loved it!
Wasabi Ranch
First thing I noticed was the ranch flavor, followed by a mild wasabi kick. Quiet yummy! These ones were my favorite of the four.
Crunchy Mac n' Cheese
They somehow managed to pull off a subtle mac & cheese flavor on this chip, one that doesn't overwhelm, but does remind you of actual mac & cheese. Except it's in a fun crunchy, tube shaped, chip form!
Original Sea Salt

These are more of a 'simple' chip compared to the others. The chip itself is quite tasty, and the sea salt is just right (not too much!). I saw on the eatrageous instagram that they suggested putting these chips in some chili. Sounds good to me!
We really enjoyed all the flavors! Each one had their own unique taste, full of flavor, with a great crunch.
Check out eatrageous on facebook & twitter!
Deliveries Kamagra Oral Jelly are conducted almost round the clock but. Next Day Delivery it is convenient not to everyone and therefore to solve to you.