Snack Review: Jelly Babies
Would you like a Jelly Baby?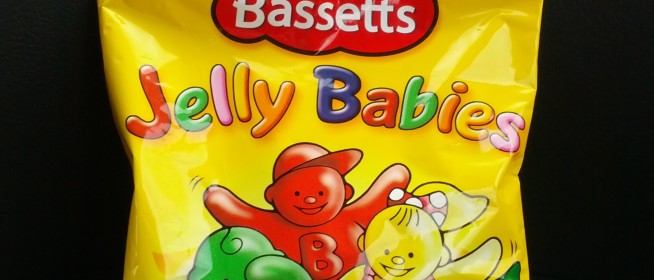 On a recent trip to the Who North America Warehouse I discovered, much to my surprise, that they had Jelly Babies. Don't know what those are? Then you've probably never seen Doctor Who, and I'll also assume that you aren't from England.
For years I've wondered what Jelly Babies were, and have always wanted to try them. All because of exposure from a young age to things like this…
The Doctor and his Jelly Babies, I used to think I'd meet him one day and he would offer me some.
So anyway, back to the fact that I actually found some here in the States. They're Bassetts brand, the original makers of the candy. When I spotted them WhoNA had 3 bags left, I grabbed one, then when I passed by that area again the other 2 were gone. I almost regret not taking all of them, even if they were almost $5 a bag.
They seem to be dusted in starch, and don't taste like you might imagine. I think most people here in the sates just always assumed they are similar to something like gummy bears, but they're not.
Each color jelly baby has a very distinct flavor, and they are all really good. There's a dark purple one that turned out to be blackcurrant, when I tried it I just assumed it was going to be grape. All the other colors are flavors you'd expect: raspberry, strawberry, orange, lemon, lime. Favorite: Raspberry – Least favorite: Blackcurrant
I find them addicting, and very easy to eat. I highly recommend trying them if you ever get the chance.