Summer 2013 Movies
Summer movie guide for geeks.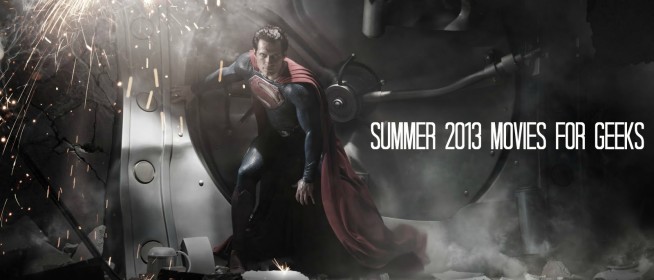 It's that that time of year for the Summer movie blockbusters…and lots of other movies that will probably get lost in the shuffle. We tried to make sure our list had something for every geek, even the little ones. Check out the trailers (they're linked in the titles), and let us know what you will be seeing.
May Movies:
Now Showing – Star Trek Into Darkness – We went to the midnight premiere last week. Have you seen it yet?
5/24 – Epic –  Basically, it's pretty much a classic tale of good vs. evil. This looks like an interesting & cute family movie.
June Movies: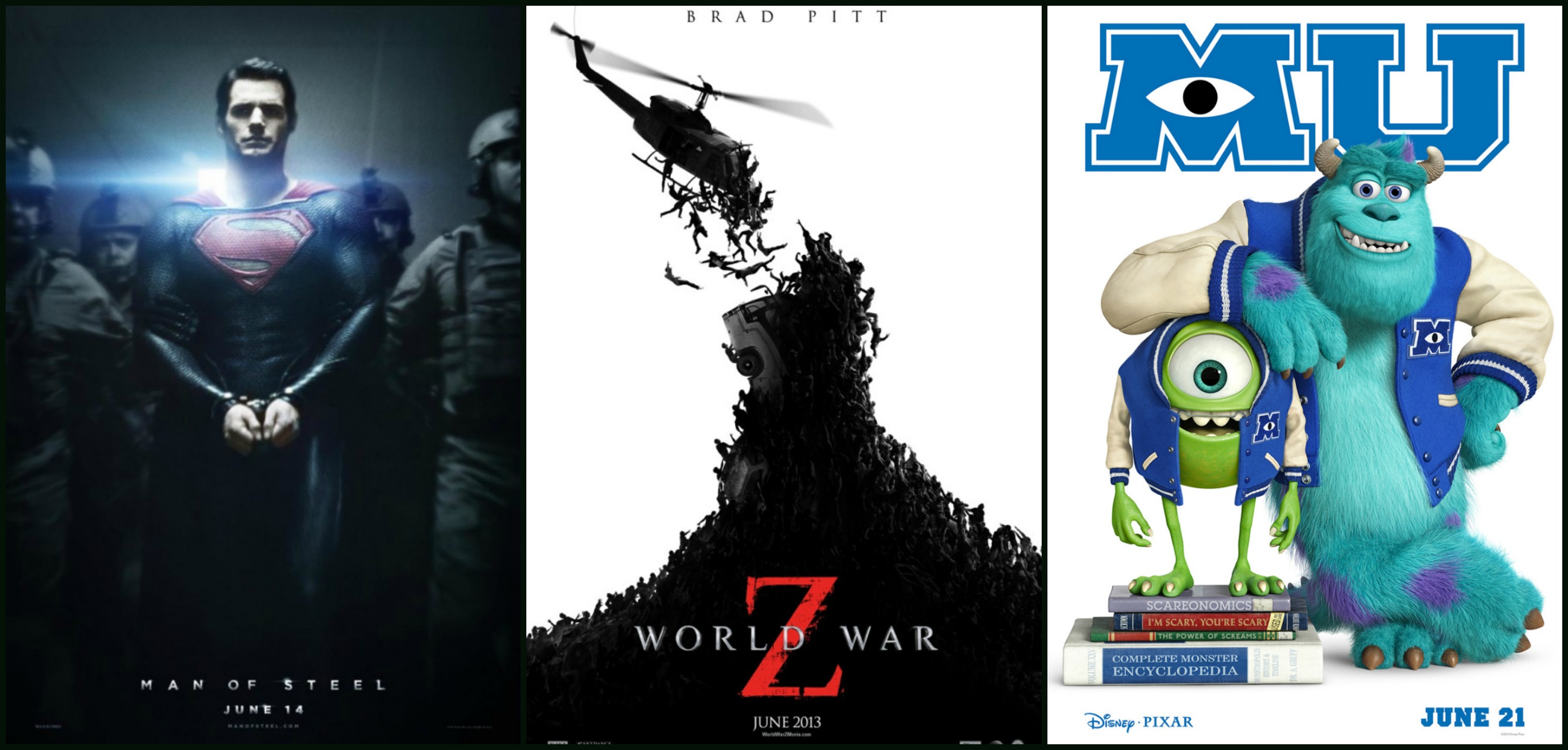 6/14 – Man of Steel – Our movie for June. This is one bad-ass looking Superman movie, and we can't wait to see it.
6/21 – World War Z – United Nations employee Gerry Lane traverses the world in a race against time to stop the Zombie pandemic that is toppling armies and governments, and threatening to decimate humanity itself.
6/21 – Monster University – A look back at Mike & Sulley when they attended Monster U. If you liked the first one, are a Pixar fan, and have little ones, this might be for you. Also, Nathan Fillion has a voice in this. Just sayin.
July Movies: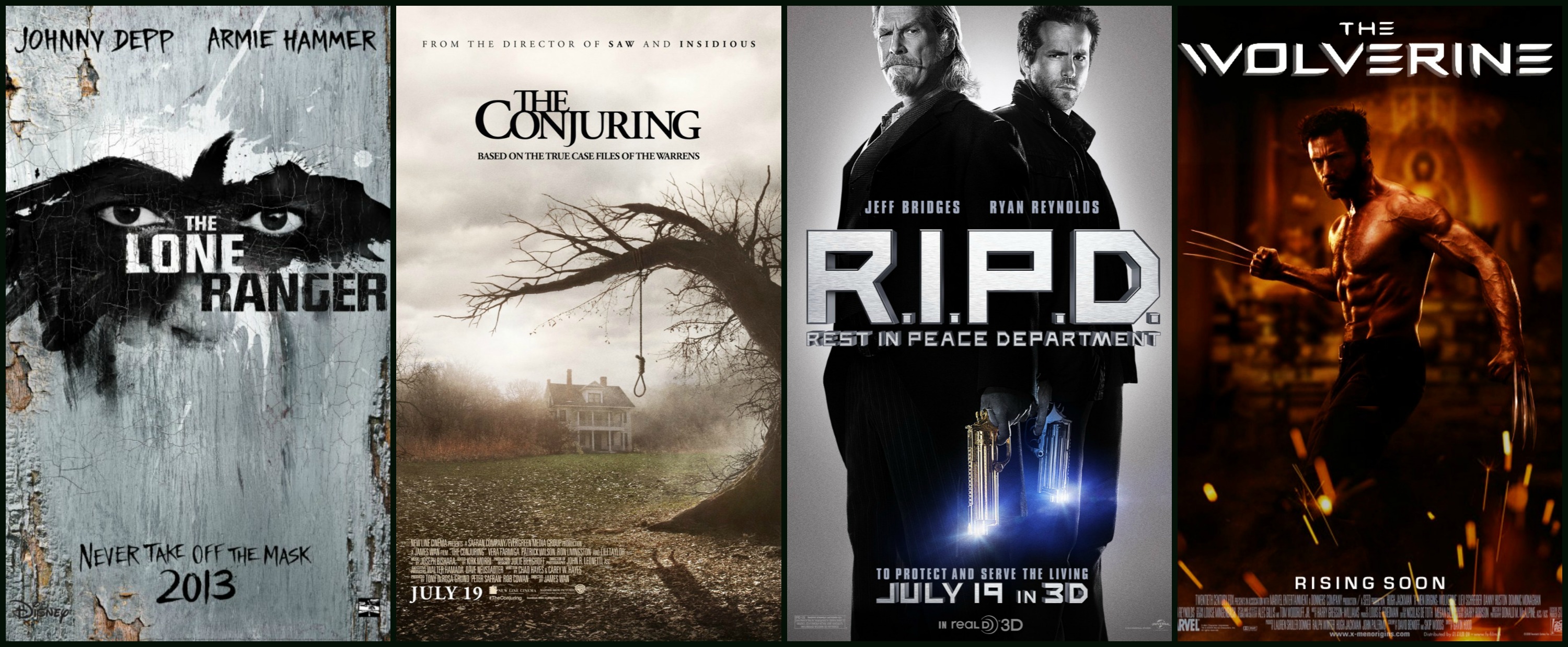 7/3 – The Lone Ranger – This looks like a fun adventure story. I used to watch the old TV show when I was a kid, this doesn't remind me of the show at all, and I have no problem with that.
7/3 – Despicable Me 2 – Gru is recruited by the Anti-Villain League to help deal with a powerful new super criminal. We still haven't seen the first one, would like to.
7/12 – Pacific Rim – Giant robots piloted by humans, in their fight against aliens attacking the Earth.
7/19 – The Conjuring – Paranormal investigators work to help a family who have a dark presence in their farm house. This really doesn't look bad, seems to be pretty creepy. It looks like something I'll want to watch around Halloween.
7/19 – R.I.P.D. –  A recently slain cop joins a team of undead police officers working for the Rest in Peace Department, and tries to find the man who murdered him. It's kind of like Men in Black, Ghostbusters, and Dead Like Me all rolled into one. It looks pretty fun. It's our movie pick for July.
7/26 – The Wolverine – Wolverine in modern day Japan, where he finds out that it might be possible to undo what has been done to him. Looks like it will be an action packed movie.
August Movies:

8/9 – Elysium – Set in the year 2154, where the very wealthy live on a man-made space station while the rest of the population resides on a ruined Earth, a man takes on a mission that could bring equality to the polarized worlds.
8/16 – Kick-Ass 2 – Quirky, comic book-style action. We enjoyed the first one, hoping the second one isn't a let down. We're interested in it, but won't be seeing it in theaters.
8/16 Percy Jackson: Sea of Monsters – I have never read the books, would like to, also haven't seen the other movie, but I figured this should still go on our list. Also, Nathan Fillion, Sean Bean and Anthony Head…I'd go to the movie just to see them.
8/21 – The Mortal Instruments: City of Bones – A teenage girl finds out she's a shadow hunter (demon hunter, basically), which means she can see demons, and other things  that humans can't. The trailer looks interesting, and has made me want to check out the book.
8/23 – The World's End – Simon Pegg and Martin Freeman are in this, and it looks so awesomely funny. It's a comedy, sci-fi, drinking buddies movie. It's also our movie pick for August!
That's our list of Summer 2013 movies for geeks! I think I may have forgotten a few, any suggestions?
Deliveries Kamagra Oral Jelly are conducted almost round the clock but. Next Day Delivery it is convenient not to everyone and therefore to solve to you.