Summer 2014 Movies (for geeks)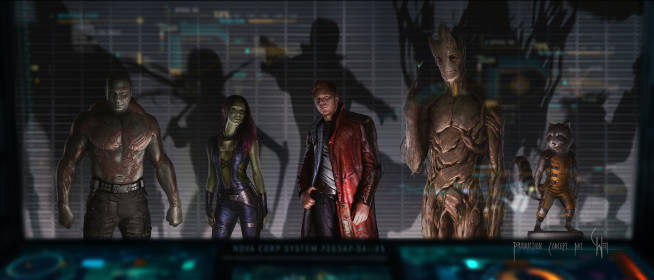 Movies this summer, at least the ones for geeks. Trailers are linked in the titles of each movie,  check them out, and let us know what you're looking forward to seeing this Summer. The movie we can't wait to see is Guardians of the Galaxy!
Order your movie tickets, or get gift certificates, online through Fandango
!
June Movies:

June 6  Edge of Tomorrow 
A soldier fighting in a war with aliens finds himself caught in a time loop of his last day in the battle, though he becomes better skilled along the way.
June 13 How to Train Your Dragon 2
It's been five years since Hiccup and Toothless successfully united dragons and vikings on the island of Berk. While Astrid, Snotlout and the rest of the gang are challenging each other to dragon races (the island's new favorite contact sport), the now inseparable pair journey through the skies, charting unmapped territories and exploring new worlds. When one of their adventures leads to the discovery of a secret ice cave that is home to hundreds of new wild dragons and the mysterious Dragon Rider, the two friends find themselves at the center of a battle to protect the peace. Now, Hiccup and Toothless must unite to stand up for what they believe while recognizing that only together do they have the power to change the future of both men and dragons.
June 27 Transformers 4 Age of Extinction
An automobile mechanic and his daughter make a discovery that brings down the Autobots and Decepticons – and a paranoid government official – on them.
June 27 Snow Piercer (limited release)
In a future where a failed global-warming experiment kills off all life on the planet except for a lucky few that boarded the Snowpiercer, a train that travels around the globe, where a class system evolves.
July Movies:

July 2 Deliver Us From Evil
NY police officer Ralph Sarchie (Eric Bana), investigates a series of crimes. He joins forces with an unconventional priest (Edgar Ramirez), schooled in the rituals of exorcism, to combat the possessions that are terrorizing their city.
July 2 Earth to Echo
A group of friends investigate a series of bizarre text messages they receive after a construction project begins in their neighborhood.
July 11 Dawn of the Planet of the Apes
A growing nation of genetically evolved apes led by Caesar is threatened by a band of human survivors of the devastating virus unleashed a decade earlier. They reach a fragile peace, but it proves short-lived, as both sides are brought to the brink of a war that will determine who will emerge as Earth's dominant species.
July 18 Jupiter Ascending
In the future, a young destitute human woman gets targeted for assassination by the Queen of the Universe, and begins her destiny to finish the Queen's reign.
July 25 Hercules
Having endured his legendary twelve labors, Hercules, the Greek demigod, has his life as a sword-for-hire tested when the King of Thrace and his daughter seek his aid in defeating a tyrannical warlord.
August Movies:

August 1 Guardians of the Galaxy
In the far reaches of space, an American pilot named Peter Quill finds himself the object of a manhunt after stealing an orb coveted by the villainous Ronan.
August 8 Teenage Mutant Ninja Turtles
Darkness has settled over New York City as Shredder and his evil Foot Clan have an iron grip on everything from the police to the politicians. The future is grim until four unlikely outcast brothers rise from the sewers and discover their destiny as Teenage Mutant Ninja Turtles. The Turtles must work with fearless reporter April O'Neil and her cameraman Vern Fenwick (Will Arnett) to save the city and unravel Shredder's diabolical plan.
August 22 Sin City: A Dame to Kill For
The town's most hard-boiled citizens cross paths with some of its more reviled inhabitants.
August 29 Jessabelle
Returning to her childhood home in Louisiana to recuperate from a horrific car accident, Jessabelle comes face to face with a long-tormented spirit that has been seeking her return — and has no intention of letting her escape.
August 29 Leprechaun: Origins
The Leprechaun returns in the horror reboot starring WWE wrestler Hornswoggle, Stephanie Bennett, Teach Grant, Bruce Blain and Adam Boys.
Deliveries Kamagra Oral Jelly are conducted almost round the clock but. Next Day Delivery it is convenient not to everyone and therefore to solve to you.